Erik Wasson — Vice Chair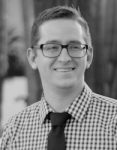 In addition to managing an analytics team at Cigna, Erik specializes in data visualization. His diverse background encompasses a biochemistry education and a history of successful workforce management.
A passionate advocate for the arts and equality, Erik is also putting his data visualization skills to work for AFLCT.
Additionally, Erik serves as a member of the Board of Directors at The Discovery Center, Woodstock, CT—and is actively involved in community enablement.
He lives in Hartford with his wife, Amanda, a PA student at the University of St. Joseph. Erik is an ardent runner and avid reader, an occasional globetrotter and a constant boardgamer.