Craig Norton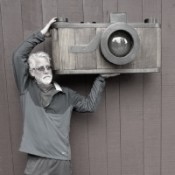 Why is Craig's picture in color? Because he's also an AFLCT Artist!
Documentation & Evaluation Specialist, Arts For Learning Connecticut – Craig is responsible for overseeing and documenting the efficacy of AFLCT's grant-funded programming, residencies and other services. Generally,
grant makers seek data on how well the programming, etc. that they're funding is being received, and its impact on the students, curriculum and communities served. Craig interviews and surveys the students, educators and other parties involved to provide grant makers with detailed, useful feedback.
Being a long-time AFLCT Artist, himself, Craig also documents grant-funded AFLCT programming through his artful photography and videography—tangible proof of our programming's positive impact on communities throughout the state.
Apart from his administrative duties with AFLCT and in addition to being one of our many, talented and dedicated participating Artists, Craig is also a professional photographer, filmmaker, musician and educator in his own right.
He teaches photography, video and drumming—giving students a wide range of options for expressing themselves creatively, while deepening their connections with each other and the subjects they're studying. No matter what he's teaching, Craig's classes are always engaging and highly participatory—giving everyone involved a chance to shine.
In 2017. Craig will begin pursuing what may be the most significant project of his career, combining his passions and expertise by directing a feature length documentary about the drumming movement in America.