Eileen Carpinella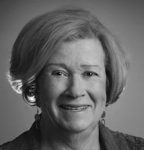 Eileen is in her third decade of serving as Arts for Learning Connecticut's ED. Prior to joining Young Audiences in 1995, Eileen founded and served as the Director of an innovative elementary school after-school arts program. In addition to working for the U.S. Government for over ten years, Ms. Carpinella is a visual artist—in specializing in textile design and mixed media collage.
As an artist, educator and administrator, Eileen brings invaluable experience and multiple perspectives to the leadership and day-to-day operational integrity of Arts For Learning Connecticut.
Ms. Carpinella holds a Master's Degree in Public Administration from University of Hartford, and received her Undergraduate Degree in Education from St. Joseph College, West Hartford.
In addition to her work with AFLCT, Eileen serves on the Board of the Hamden Education Foundation, and as a Commissioner on the Hamden Disability Commission.
Ms. Carpinella resides in Hamden with her husband.