Julie Lister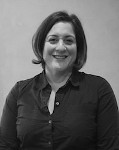 As Director of Development, Julie is responsible for the organization's fundraising efforts.
Having been actively engaged in the arts since in her youth, Julie is passionate about the value of the arts in education and making creative learning opportunities available to people of all ages.
Prior to joining AFLCT in 2015, Julie enjoyed a 20+ year career in advertising in New York, serving clients in a variety of industries ranging from personal care products and cosmetics, to pharmaceuticals and more. Developing and presenting new business proposals are important aspects of Julie's agency background, requiring strong collaboration and persuasive writing and budgeting skills—which have proven to be excellent pre-requisites for working in the non-profit sector.
Julie also serves on the Board of Directors of the Guilford Land Conservation Trust.
She earned her BA at Cornell University, where she studied English Literature and Visual Arts.