Alex Novak Foster M.Ed.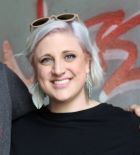 Alex works with schools, community centers, learning programs, etc. and with the directors, artists, and administrations of said locations to align AFLCT's programming with academic and current curricular needs. Alex works to recruit artists in areas of need, as well as work with artists to design current, curricular, and culturally competent programming. Alex also makes many site visits, and manages a lot of our social media marketing campaigns. Alex manages several large grants and grant contracts, and writes grants for AFLCT as well. Alex is a part of the CAAA (CT Arts Administrator's Association), New Haven Arts Council, among other committees and organizations.
Alex brings extraordinary depth of experience in arts-related operations to AFLCT. Alex is a Connecticut dual-certified teacher in the area of Art K-12 and Elementary Education Grades K-6. Alex majored in Art Education at Ithaca College '11 where she received her Bachelor of the Arts. Alex obtained her Master of the Art of Teaching from Quinnipiac University in 2013. Alex has 7 years teaching experience in New Haven, CT.  Alex teaches the course "Facilitating the Arts in the Academic Classroom" to both graduate and undergraduate program students at Quinnipiac University's School of Education.
Alex lives with her husband Van in New Haven, CT. Alex is a professional artist and painter, and paints commissioned artworks through her business Pearl Painted Stories. Alex enjoys being outside in cool weather, travel, podcasts, cooking, and spending time with family and friends.