Christine G. Whitten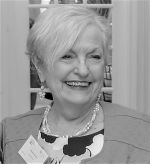 CHRISTINE WHITTEN is President of the management training and public relations company, Business Image Counts. She has assisted businesses, government, non-profits and associations with performance improvement. Ms. Whitten is an expert in marketing organizations to achieve their development and public relations goals.  She has worked with arts commissions assisting small-size organizations and performers with brand development.  Ms. Whitten developed and facilitated customized training seminars for colleges in Workforce Development Programs. She has received outstanding participant evaluations.
Whitten won a Thoth Award from the Public Relations Society of America, National Capital Chapter, in the Community Relations Category for the campaign: Prince Georges Philharmonic Orchestra's "Season of Magnificent Overtures." She later won a second Thoth Award in the Marketing Products Category for the campaign: Parker Brother/Kenner Toys, the "International Monopoly Championship." Ms. Whitten served on the Board of Directors for PRSA/NCC and chaired the Public Service Committee assisting non-profits with public relations goals. She was honored to serve as Keynote Speaker for the: Community Communication Conference, Washington, D.C.  She has served as a judge for the Council of Better Business Bureaus' Torch Awards.
As an Account Supervisor for the Washington office of MS&L Worldwide Public Relations, Whitten managed the public relations and advertising campaigns for corporate, non-profits, and economic development accounts.
Christine Whitten served as a flight attendant and trainer for United Airlines. On Special Assignment, she wrote and coordinated all marketing and publicity for United's Purser Training Program, "Build on Success," Winner: Diamond Award of Excellence for Innovation in Customer Satisfaction. She also facilitated the Diversity Training Program, "Connections," to United Personnel.
Whitten relocated from the Washington, DC area to Connecticut in 2014. She completed a public awareness campaign for Arts for Learning Connecticut and invited to join the Board of Directors in 2017. Red Hook Retro Design, makers of custom, vintage travel scarves and ties retained Ms. Whitten to launch their small business. Whitten also serves as Representative, District One, Hamden Town Committee.  She was appointed Justice of the Peace, State of Connecticut, 2017-2021.