Padma Srimatkandada, MBA, BS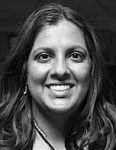 Padma heads the Student Affairs Helpdesk, Desktop Support and Server/Infrastructure Staff, providing servicing over 20 departments throughout the Storrs and Regional Campuses—while overseeing a wide range of IT-related and customer service functions.
In addition to her active role with the Arts For Learning Connecticut's Board of Directors, Padma designed and developed a hands-on workshop about cleaning computer malware, Internet safety and security issues.
Padma's IT duties encompass overseeing everything from student activities to medical and food services—managing an environment of workstations, servers, database and enterprise applications. Additionally, she is fluent in a wide range of technologies, computer languages, operating systems and applications.
Until recently, Padma served as a Systems Administration Team Lead since 2014, System Administrator for UCONN from 2007-2014, and also as a Student Support (ResNet/HuskyTech) Coordinator from 2004-2007.
Padma earned her MBA at The University of Connecticut's Hartford Campus, prior to which she received her Bachelor's Degree of Science and Engineering in Computer Science and Engineering. She did her undergraduate work at UCONN's Storrs, CT Campus. Additionally, Padma holds an Advanced Business Certificate in Project Management from UCONN and is currently working on obtaining her Project Management Professional (PMP) certificate.