Padma Srimatkandada, MBA, BS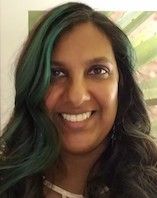 Padma heads the Technology Systems and Solutions Team at the University of Connecticut for Student Affairs at Storrs, CT. Her IT duties encompass overseeing everything from student activities to medical and food services—managing an environment of workstations, servers, databases and enterprise applications. Additionally, she is fluent in a wide range of technologies and applications to provide services to the variety of 15 departments throughout the Storrs and Regional Campuses while overseeing a wide range of IT, project and customer service related functions.
In addition to her active role with the Arts For Learning Connecticut's Board of Directors, Padma designed and developed a hands-on workshop about cleaning computer malware, Internet safety and security issues. This workshop was presented to 8th grade girls as a hands-on experience to clean infected computers. During her early time at UConn she managed the ResNet program managing student workers and educating college students on how to keep their computers clean of malware on their own.
She received her Bachelors in Computer Science and Engineer at the University of Connecticut in May 2004 and her Masters in Business Administration in May 2014. She has been in the field of technology for 15 years. Additionally, Padma holds an Advanced Business Certificate in Project Management from UCONN and obtained her Project Management Professional (PMP) certificate.