Renee Miller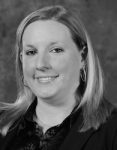 Renee has been working in the banking industry for over 13 years. She is currently a member of the Ion Bank Family, who believe in building lifetime relationships by partnering with the communities they serve to help customers identify and achieve their financial goals.
Renee is passionate about childhood education and mentors students at the Children's Community School in Waterbury, CT.
Renee also conducts Financial Awareness workshops for Hamden High School students, preparing them for job interviews and placement. Additionally, she serves as Co-Chair of The Curve—an initiative of the Hamden Regional Chamber Young Business Professionals. The Curve's mission is to serve the next generation of business leaders who are already making an impact in today's economy—by helping them develop relationships that will last throughout their careers.