Adelka Polak
*DIGITAL LEARNING PROGRAMS*
Frogs Make Me Hoppy: Puppetry Workshop
Participants will make a frog puppet, learning how to re-purpose everyday materials into a puppet with a great surprise! They also can make a fly puppet helping them to create their own unique game of chase using both of their puppets. We will practice frog songs from around the world together, read "Frog Song" by Brenda Z. Guiberson with illustrations by Gennady Spirin, and learn about frog life cycles, their habitat, and so many unique qualities that the young artists get to embody in their own puppet creations. After everyone has completed their work of art, they will learn how to put the frog to action, making it move to music in this exciting creative learning workshop for young people. Supplies will be discussed first day of class. This workshop will take place via Zoom. We will email you the private meeting link and password 24 hours in advance of the workshop.

The rest of Adelka's Programming can be delivered digitally. Please see below for program descriptions.
For details about Adelka's Digital Programming, please email us here!
---
Adelka Polak of Sova Dance Puppet Theater offers a variety of Mixed Media performances, including puppetry, dance, and the art of mask, to save the world with love, joy and boundless energy.- advocating responsibility to humanity and the environment through arts & education.
---
Programs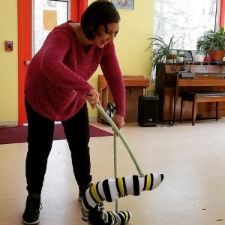 NEW!   Marvelous Transformations: Monarch Migrations ( Gr. 1-5) 
Students journey through a monarch butterfly's migratory path as mapped out in a large open space while learning how to make their own caterpillar & butterfly puppets that come to life in a final dance dramatization.  Full 2-3 day residency available or single 45 minute workshop version. Also available for monarch puppet-making only.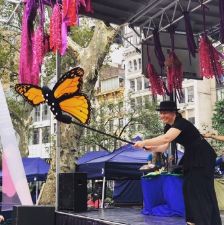 The Art of Mask (Grades K-8)
"The Art of Mask" is a 45 minute performance and interactive presentation where the audience engages their own imaginations to create meaning and understanding of the images seen moving, transforming and dancing onstage. This truly transformative art form holds roots in the ancient world, which helps us to understand the way cultures communicate ideas and concepts through masks and dance among many generations all around the globe. We can transcend language barriers when drama comes to life with the use of masks in this thrilling presentation.
Single Performance: $715
Pair of Performances: $895
Frogs Make Me Hoppy  (Grades PK-3)
A workshop series where we learn about frogs' habits throughout the seasons. Participants create frog puppets/masks in the classroom that can get us moving to music with hops, jumps, sounds and a great artistic surprise in an open space. Learn about wildlife using rhythm, dance, puppetry, and drama!
1) In class reading to introduce the students to frogs. 30-45 minutes.
2) Puppet-making workshop for building & creating the frog puppets should be 45 minutes in length.
3) Puppetry movement workshop works very well anywhere from 30-45 minutes.
***The best flow of the program in the classrooms are when Workshop #1 & #2 are combined to create a 75-90 minute session for Day 1.
2 Workshops: $355
4 Workshops: $715
Marvelous Metamorphoses
"Marvelous Metamorphoses" unravels to present bizarre and beautiful transformations in our world like caterpillar to butterfly, polliwog to frog, and more! We dance & sing our way through natural transformations celebrating them for our sustained joy and ecological health on this planet. Do you want to hear a caterpillar rap? Your neurons may sparkle as we bring annual cycles to life through live music and the art of puppetry.
Suggested for Grades PrK-6.
Performance can can also be combined with a puppet-making workshop including, butterflies, caterpillars, bees, frogs and/or flies!
About the Artist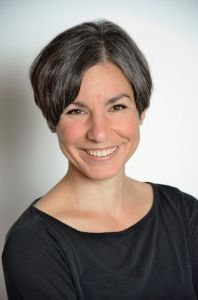 Adelka Polak founded Sova Dance & Puppet Theater in 2013.  As a dancer, puppeteer, mask-performer and movement director for 15 years her work with MASQUE traveled to Denmark, Taiwan, Bulgaria, the Czech Republic, and Turkey.  In 2015 at LaMama, E.T.C. she performed puppets from the Henson Workshop in "Crane: On Earth, In Sky" led by Heather Henson & Ty Defoe.  She performed with the Czechoslovak-American Marionette Theater in NYC and toured nationally and internationally with Squonk Opera who went "from junkyards to Broadway."  Film credits as a Puppetry Movement Consultant for the screen actors include "The Seagull" scheduled for release in 2017. She works as a Teaching Artist in the Hartford public schools, at New Pond Farm & Educational Center, Two Coyotes Wilderness School, the Ridgefield Guild of Artists and Westport Playhouse.  She also works in the Theatre Arts Department at Western Connecticut State University.  Adelka Polak is a member of UNIMA, Puppeteers of America and the CT Guild of Puppetry.  Her mission is advocating responsibility to humanity and the environment through arts & education.
Sova Dance and Puppet Theater celebrates humanity and the environment by engaging audiences through live performance combining the moving body, puppetry, mask, video, dance, and artistic installations. The combined ingredients communicate that which cannot be described in words, and therefore are accessible to communities around the globe.  "Sova" means "owl" in Slovak and also refers to an asteroid belt named by a Czech astronomer.