Alicia Cobb
*PROGRAMS AVAILABLE IN DIGITAL FORMAT*
---
Art and expression has been a part of my life for as long as I can remember. I believe that everything we touch and experience is a form of art. Creating, for me is the ability to emulate life, nature, culture, humanity and love in ways it might not otherwise be seen. Fine art brings what we feel and see internally to light. It transcends the human experience and helps us to relate to life on a higher frequency.
---
Programs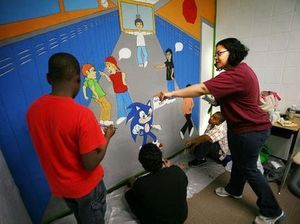 MetArtmorphosis Life Skills and Art Workshop (K-12)
A youth art and life skills workshop that deals directly with life's constant changes through creative writing and visual arts. The life cycle of a butterfly is the inspiration behind the curriculum. Learning to adapt to change creatively and courageously is our mission. In an ever-changing environment, it is important to learn how to navigate. The purpose of this workshop is to guide students through the process of creative expression, helping them to identify what works best for them—it is meant to give them creative life skills to walk away with.
Simplicated Group Painting
Simplicated Group Painting is a social paint event. It's a fun time with great energy! Paint a step by step masterpiece to bring home and hang on your walls! This is the perfect program for anyone looking to hone their craft, or anyone who thinks, "I can't paint!" It's a great way to socialize, decompress, and create something you will want to hang right away!
Class Activity
Field Trips in the Classroom
Community/ Family Events
Library Events 
Festivals and Fairs 
Team Building
Fundraisers for Non -profits (Different pricing, please request details)
Artist Talk: Finding Your Passion and Purpose
In this talk, Alicia speaks with students about the ability for each individual to discover their passion and purpose. Alicia will share her own story about her journey to purpose, leading to her career as a professional artist. She will share milestones as well as challenges faced along the way. Students will participate in a written exercise to help them gain clarity in their own journeys; ending with a Q&A so that students will have the opportunity to gain more insight on some of the information received during the talk as well as receive advice on their own pursuits.
About the Artist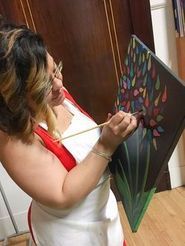 Alicia C. Cobb is a professional visual artist, fine body painter and arts educator currently residing and working in Bridgeport, CT.  Her biggest inspirations are transformation, the human body, emotion, nature and her children. Her works can be found on many surfaces; canvas, walls, clothing and people.
Specializing in body art, but is a multi-talented painter and poet.  Her art has been featured in several published magazines (S.L.A.M.M, 2013; & Skin Markz, 2015). She was also among the highlighted artists in New York City Body Painting Day (2014, 2015), The Flesh Art Show (New Orleans, 2015). Alicia placed top ten in the 2016, North American Body Paint Championships in Greensboro, NC. which is the only sanctioned body art competition in the U.S. She was a 2017 "Bridgeport Girls Rock" honoree and she won the award for best artistic concept from the BNT Shark Tank "Do West" competition in September 2017. She has been a participating artist in public art exhibits throughout Fairfield county since 2015.
Alicia currently has a studio space in Bridgeport where she works on commissions, hosts social paint events as well as private lessons. She enjoys giving back and participates in community events and organizations frequently. She acts as a mentor to many young aspiring artists and is currently an art educator in extracurricular and summer enrichment programs throughout Connecticut.