Anne Pasquale
*PROGRAMS AVAILABLE IN DIGITAL FORMAT*
---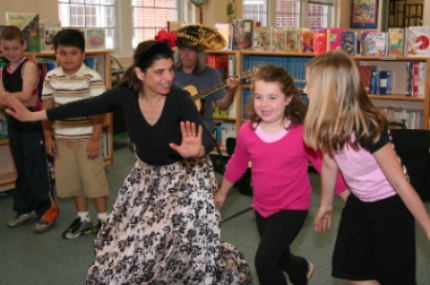 Anne Pasquale's Living History Programs present online and live programs that inspire, educate and bring history to life.
---
Programs
All Aboard!!! For the Living History Musical Story Train Tour (Grades PK-1) 100 Students
All Aboard!!! For the Little Living History Tour! Your youngest readers will join Anne on the O.M.B. (Only Make Believe Express) as they harvest tales, true and tall, from all over America. There will be sing-a-longs and many opportunities to join in a story, dance with the Statue of Liberty, or plant a tree with Johnny Appleseed. So get your tickets and prepare for a rollicking good ride!
Liberty Belles (Grades K-12)
Inspired by her own grandmother's tales, Anne's program is based on the stories of female immigrants from many cultures. She uses these stories, as well as songs, to explore this nation's cultural diversity and common heritage. Length: 45 minutes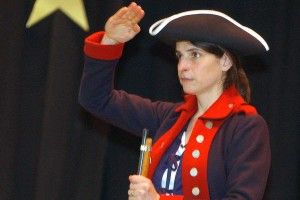 The Revolutionary Deborah Sampson (Grades 3-12)
The extraordinary life of Deborah Sampson, the "Secret Soldier" and only recognized female veteran of the Revolution is dramatized in this high-energy, two-person play. Employing the art of quickchange, join in the reenactment, and a touch of stage combat as it clarifies the developments leading from the arrival of the first colonists to the American Revolution. Length: 45 minutes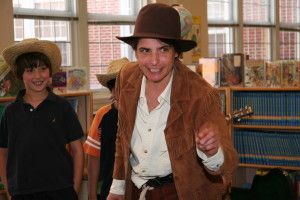 Calamity Jane (Grades: K-12)
Armed with a bagful of props and her trusty sidekick musician, one actress brings the tales of the Old West to life with all the spirit of a buffalo stampede. "Calamity Jane" is a show rich in legend, sing-a-longs, live re-enactments and even a square dance or two. This show makes a perfect accompaniment to the Westward Expansion curriculum. Length: 45 Minutes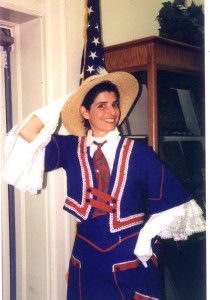 Nellie Bly: America's First Woman Reporter (Grades 3-12)
What's a 19th-century reporter doing in your school? Getting a story, of course! Join Anne as she brings to life the legendary female who "gave voice to the voiceless" and changed the role of women in journalism forever. It's a sure Women's History Month crowd pleaser.
At a time when a woman's place was thought to be the home, Nellie Bly dared to travel the world in search of a story. Actress Anne Pasquale brings the renowned stunt reporter of the 1890's New York World, back from the past. Through story, song, and participatory reenactments, students are engaged by this legendary woman's life. They learn how Bly's provocative reporting style changed journalism forever. "Nellie Bly" is a personal encounter with 19th-century America through the eyes of one of its most compassionate and heroic journalists. Length: 45 Minutes
About the Artist
Anne Pasquale, performer and creator, attended the University of Rhode Island and did graduate studies at New York University, Tisch School of the Arts. She is a member of the Actors Studio, a founding member of Accidental Repertory Theatre; a member of Actors Equity Association (AEA), and SAG-AFTRA. Anne's
recent appearances include The Deuce on HBO, Anna Weiss at the Abingdon Theatre, The New Dramatist's, and award-winning Twelfth Nighted by Patrick McCarthy. Ms. Pasquale is the recipient of the 2015 Broadway World Rhode Island Best Writer and Best Performer Awards for her solo show, BOB. 
Keith Herron is an actor, singer, dancer, writer and producer most recently seen on screen in The Marvelous Mrs. Maisel, Mr. Robot and Boardwalk Empire. He has performed at St. Clements, Workshop Theater, NY Fringe (3 times), NY MITF, NY New Works Theatre Festival, Minnesota Opera, Dudley Riggs, Children's Theatre Company, Chanhassen Dinner Theatre, and the Minnesota Shakespeare Company.

It is with great pride that they now present to you this series of historical programs appropriate for audiences of all ages.