The Art Spot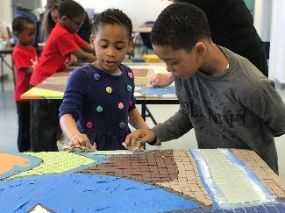 Through collaborative participation, The Art Spot offers dynamic, inclusive, memorable art experiences while creating a site-specific Mosaic Mural.
---
Programs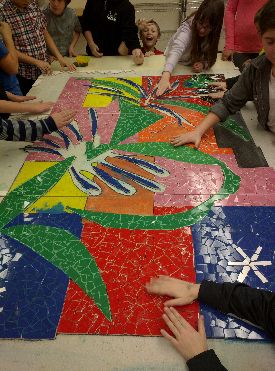 Mosaic Murals: A Celebration of a Dynamic, Inclusive Art Process
Bruce and Joanne Hunter, of The Art Spot, create with your group a piece of permanent Public Art - a catalyst for creativity, positive change, kindness, compassion and human, hands-on interaction. We make community art to bring awareness and inclusion to a place, culture, movement, cause, or philosophy. We share art history, development and current use of mosaics, narration of your project, use of tools and medium, how to design large scale art, and more. All the while participants are making hands-on art. It's dynamic and exhilarating—the team building is strong, and the energy and enthusiasm is palpable!

Note: Our programming has been delivered in this time of Covid-19 with small mural components so social distancing may be observed. These smaller components can then be installed to together to create one piece. This allows a greater number of people to safely work on the project at one time. This mural residency occurs outside, under a pavilion or tent, with all participants wearing masks.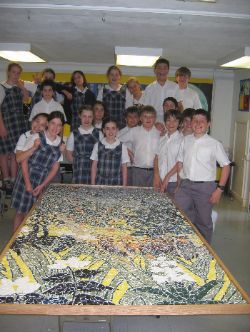 Copper Repousse Trees
The Art Spot creates positive, cooperative and productive opportunities to create large scale artwork based on any theme. Every participant is hands on and can learn how to design and present graphic images, work in scale, development and history of mosaics, current uses, tiling terminology, tools, tiling terminology and process and so much more. The Copper Repousse Tree of Compassion is also full of historical uses and reference (Repousse: Think Statue of Liberty!), hands-on art making, team effort and the process and technique of repousse. Participants actually create the mosaic or the copper tree with our direct guidance. Our groups are so proud to work with their peers and colleagues to create an everlasting piece of artwork. A successful creative community project, with every fabrication offering the tenents of compassion and collaboration. For ages 4-adult.
About the Artists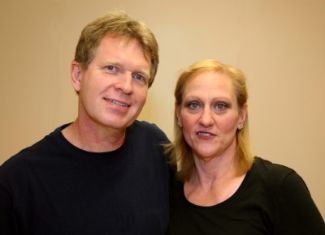 We're Joanne & Bruce Hunter, proud Pratt grads, owners of The Art Spot in Danbury, CT, lifelong artists, and creators of public art. We've accumulated extensive experience designing and effectuating "influence" art –art that brings awareness and inclusion to a place, a culture, a movement, a group of people, a cause, or philosophy. These client-specific and varied-size mosaic tile murals, created with collaborative fabrication, are catalysts for positive change,
understanding, compassion and human bonding. More than teach, we share art. In a hands-on, energetic process, we encourage discussion, demo technique, and work side by side with participants. It's thrilling to feel both the joy while making the art and the positive team building message through the art. We find such pleasure when people own their personal part of a bigger picture (literally and figuratively!) when the murals are unveiled. Whether working with a school, library, city or group, we're proud of our ability to create powerful, synergistic experiences for our clients. Our largest 900 sqft art is a CT City Canvas award for "Cool Waters" mural in Waterbury. We created, with the community, a mural to honor Victoria Soto. We work with the Dalai Lama's Compassion Project, with corporations (like Google), to present inclusive team experiences as well as groups focusing on school pride, compassion, human rights, kindness, racial balance, suicide/opiate awareness,
blindness prevention and more.