Bee True to You with Ashley Tobias
*PROGRAMS AVAILABLE IN DIGITAL FORMAT*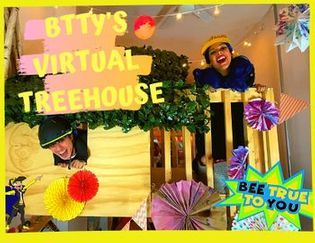 "Bee True To You" is a live Pop/Rock Interactive Anti-Bullying show that's full of funny moments and catchy empowering original songs sure to have ALL ages singing and dancing!
---
The Show
Created, Performed & Narrated by Award Winning International Singer, TOBI, "Bee True To You" is a live Pop/Rock Interactive Anti-Bullying show that's full of funny moments and catchy empowering original songs sure to have ALL ages singing and dancing.  
 
This Broadway-esque program is a story about two characters who teach us the values of friendship, kindness and discovering identities through narrative and song. 
 
From Preschool all the way up to high school, by following our messages and taking our pledge of Being True, your student body will successfully learn how to, … "Take The Sting- Out of Bullying!"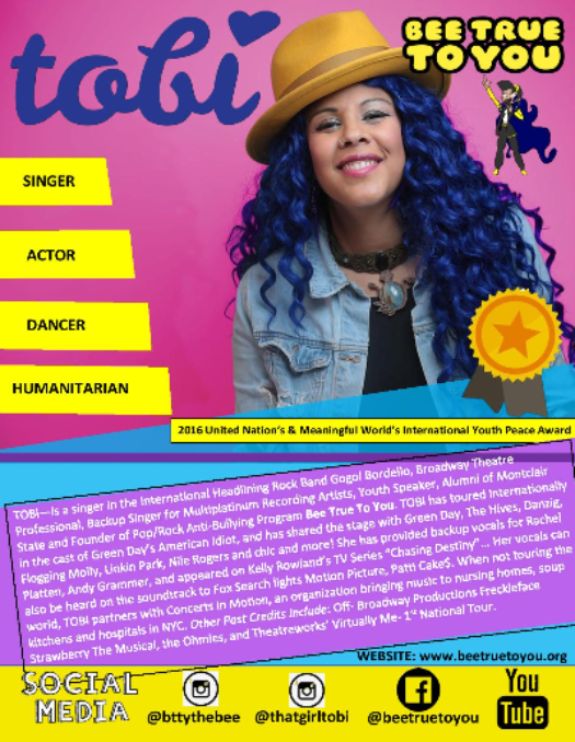 Artist Statement
Growing up I felt like an outcast. Adopted at birth, I always felt unsure of where I belonged or where exactly I fit in because I looked "​different ​ ". My hair was extremely curly, frizzy and my skin color was a darker shade than my adoptive parents-- Making me a victim on multiple occasions of Bullying from my peers and classmates.  

For me, when I learned and discovered I had the ability to sing, I began to turn to music, as music always made everything 100 times better. It was my only true escape from the negative thoughts that surrounded me. ​I knew at a young age I was given the talent of music for a reason and it only made sense for me to use music to help others, like me. That one day I would find my own place and voice in this world and I could make a difference. ​ Upon graduating college from Montclair State University in 2010, I began touring and working professionally in off-Broadway Children's musicals that all had the same underlying message of acceptance, confidence and learning to believe in yourself. It wasn't until my time touring with Green Day's Broadway Musical, American Idiot in 2012-2013, that my life as I knew it was about to change. 

My mom had called me and we were talking on the tour bus and she asked me like she usually did on occasion, what I was going to do once the 14 month world-tour was over. This was a typical question most of my family would ask me over the years, as being an actress isn't always the most 'stable' career choice... I laughed to myself and replied- I have absolutely NO idea. ​ That's when my mom, a kindergarten teacher in the town of Parsippany, NJ where I grew up, mentioned the idea of assembly programs.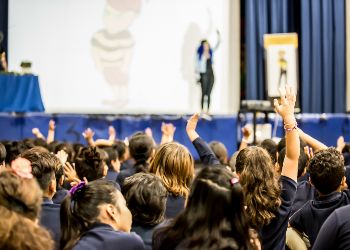 MOM​- ​"You're really great with kids. You seem to have a calling there. They really respect you and look up to you. You've always played around with the idea of opening up your own music school... Why don't you create your own assembly program? ​ " ​ I thought back to the assemblies I had that visited my school when I was a kid. Not all of them were, well- AMAZING, in fact some were pretty boring or super corny, so what could I possibly talk about during an assembly that would be relatable to children? How could I guarantee it would be fun and entertaining- I thought to myself. "How can I relate to children? What are kids, AND myself, both struggling with today?... Acceptance... lack of confidence... bullying... being true to themselves... BEE TRUE TO YOU!"And that's how it happened!    If I was going to develop an assembly program, and create a story, it wouldn't be a a routinized, boring school lecture by any means. It would be Pop, it would be Rock, it would be Interactive, there would be a DJ Mascot and it would be like a Broadway Interactive Concert! I immediately wrote down those 4 magic words, Bee True To You, along with a phrase which is now the Pre-Chorus in my program's theme song...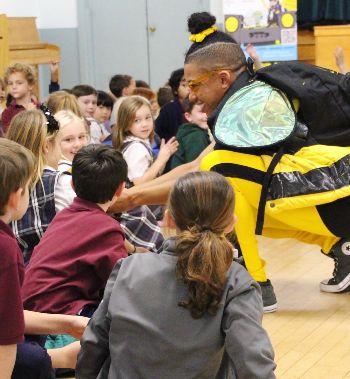 "It's the courage to believe, the fear to actually succeed, but most importantly it's about--- Being True To You"  
 
Jump to 6 years later, my program has been implemented into the Tri-State Area school system over the last 4 years, performed for over 25,000 kids and has received nothing but stellar reviews from students, parents, and teachers alike. I am extremely proud of what I have accomplished and I truly believe my program has what it takes to make a difference in this world. A world where positivity, happiness and love is truly needed during these trying times. 
 As someone who once thought of themselves as ​just ​ a singer, during this creative process, I have transformed into a Director, a book writer, a lyricist, a producer, a marketing wizard, a prop/ wardrobe/ and set designer, choreographer, and most importantly an advocate of mental health and bullying awareness for our youth.  
If I could go back in time and say anything to that 8 year old little girl, I would tell her that it's true what they say. 1 person really can make a difference. That if you truly believe in yourself and the gifts you were given, THAT is the greatest strength a person can have. Your differences are your Superpower, and my SuperPower... is music. 
 
-Ashley Tobias (TOBI) 
One Performance:       $1,570
Back To Back:              $1,855
Workshop After Performance for 1 Class:                                                  $425
Workshop After Performance for 2 Classes:                                              $785
Workshop After Performance for Grade Level (up to 4 classes):             $1,430