Boogie Chillun'
*PROGRAMS AVAILABLE IN DIGITAL FORMAT*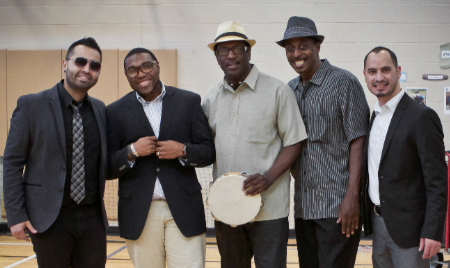 Boogie Chillun' is a lively, enthusiastic full band experience that will bring music and education to your performance space. Guaranteed to get you engaged and involved, Boogie Chillun' is fun for everyone!
---
Programs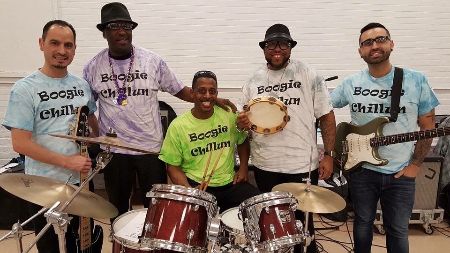 Roots of American Music (K-12+)
Boogie Chillun' will take students and faculty on a musical journey through the rich history of the United States. Meant for any age group, this experience transcends all boundaries, cultures, races, creeds, and colors.  Each song will be given a brief introduction describing the song itself, the artist, and its contribution to American music. Boogie Chillun' will encourage students to keep music alive through singalongs and interactive playing.  A cappella spiritual will melt into Gospel. Folk music will travel the country though harmonicas and banjoes, while songs of freedom and escape will mark the American Civil War. Jazz, Ragtime, and Blues will turn into Rock & Roll, which leads to Soul, Funk, and Motown, Disco, Rap, and Hip-Hop will bring the journey to present day. They will wrap up the performance with their own original composition. 
History of Rock and Roll (K-12+)
When you first think of Rock and Roll and its history, the artists that may quickly come to mind are Chuck Berry, Elvis Presley and Little Richard. This maybe true, but this musical program goes even deeper into the annals of Rock and Rolls history. This program is designed to give some great insight into the foundations of what Rock and Roll would become. Rock and Roll is considered a rebellious and very suggestive music. Its power has transformed many nations and the culture around us. This is also a great interactive music program for ages K-12.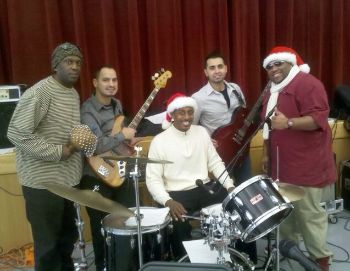 Celebration of the Season (K-12+)
This special presentation will engage and captivate kids from 1-92. Through interactive sing-a-long seasonal holiday songs the young and old will encounter the celebration of the Festival of Lights, Christ the Saviors birth and the celebration of Kwanza an African American culture festival that brings family and community's together.  (K-12)
The Sounds of Motown (K-12+)
The Sounds of Motown program takes listeners on a musical journey through the urban city of Detroit Michigan. Rich with culture, the soulful sounds of the streets became the sound of Motown known as the music of young America. This performance highlights famous Motown artist such as The Temptations, Supremes, Marvin Gaye, Smokey Robinson, Stevie Wonder and Motown founder, Berry Gordy Jr.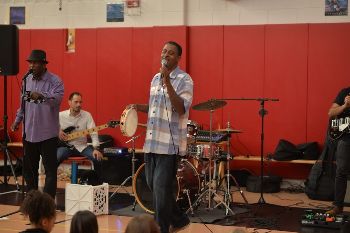 Derek Graham, Drummer, percussionist, vocalist, songwriter, arranger and composer
Born in Jersey City, NJ, Derek has performed with many different musical groups in the tri-state area since the age of 14, styles ranging from gospel, funk and A Capella. He began playing drums at the age of 10 and started singing professionally at 15. One of his passions in life is to inspire young minds to create and explore all possibilities that music has to offer. His style of music varies from R&B, funk, jazz, gospel, reggae, pop and hip-hop. His unique drumming style and dynamic, soulful lead vocals rate him as a great all-around musician. Some refer to him as sounding similar to the late great Temptations singer, David Ruffin.
Vaughn Collins, Songwriter, rapper, singer, percussionist, schoolteacher, basketball coach, referee, poet
Born in Waterbury, CT at the crossroads of the Civil Rights and Black Power Movement, Vaughn grew up idolizing James Brown, Sly & the Family Stone, Parliament Funkadelic, Motown and anything that grooved. He fell in love with hip-hop in 1978 before the arrival of the Sugar Hill Gang. Vaughn began singing in the church choir at age 10 where he discovered his voice. At age 13, he began turning his poems into rap songs after being influenced by the hip-hop sounds emanating from New York City. Vaughn formed rap groups throughout high school using the monikers "Zudi Love" and "Snappa Zooty".  While attending college at Penn State University in the mid-80s, Vaughn began DJing parties while winning numerous MC Battles. Vaughn was signed to Solar Records in 1990 as a rap artist after turning down deals offered by Teddy Riley's GRP Records and Tomy Dofart's production team in 1989. By 1991, Vaughn formed Boogie Chillun to play behind him for rap shows in lieu of a DJ or DAT machine.  The live band concept flourished as Boogie Chillun added funky blues, rock and soul to the repertoire.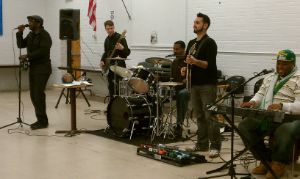 Jeff Gitelman, Guitarist, vocalist, songwriter, producer, arranger
Born in the U.S.S.R. and moved to the United States when he was nine. At this age, Jeff began studying guitar and music. By the age of 12, he was already destined for greatness, playing in local jazz clubs around Connecticut. At the age of 15, Jeff was awarded a full scholarship to a Berklee College of Music summer music program in Boston, MA. After high school he attended Berklee College of Music and graduated with honors. Since then he has played with numerous great musicians from around the world such as Lauren Hill, Bobbie Brown, Carlos Santana and most currently Alicia Keys. Now he has become a great composer, arranger and producer of many genres of music.
Jason Smith, Bassist, vocalist, songwriter
Born in Belmont, VT, Jason moved to New Haven, CT in 1999 to pursue his studies in Philosophy at Yale University. Jason is currently a PhD student at Yale and enjoys the diverse music scene that New Haven has to offer. Jason started playing bass in local bands and joined Boogie Chillun to curb his appetite for soul, funk and R&B music. Jason also enjoys blues, jazz, rock and hip-hop and anything local.
Program Pricing
Single: $1,425
Back to Back: $1,870
3 Performances: $2,430
About the Artists
Boogie Chillun' is a five-piece, diverse, multi-cultural and multitalented musical group that is well versed in all styles of music. The band was formed in 1991 by band leaders Vaughn Collins and Derek Graham in New Haven, Connecticut. The band has performed in many venues and schools throughout Connecticut, Massachusetts and the tri-state area. Some concert venues include Toad's Place, The Palace Theatre and the New Haven Green, sharing the stage with War and Ziggy Marley. Boogie Chillun' will entertain and educate fans and listeners of all ages.