Boogie Chillun'
*PROGRAMS AVAILABLE IN DIGITAL FORMAT*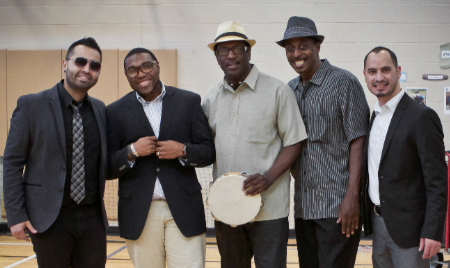 Boogie Chillun is a lively multicultural band that bridges together music, education and culture to your performance space.
---
Programs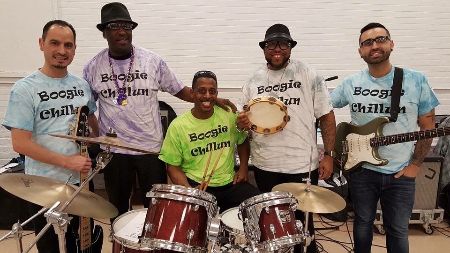 American Roots Music (K-12+)
This program will take students and faculty on a musical journey through the rich music history of the United States. Meant for any age group, this experience transcends all boundaries, cultures, races, creeds and colors. Each song will be given a brief introduction describing the song itself, the artist and its
contribution to American Music. Boogie Chillun will have audiences sing, dance and clap along to this interactive program. The band will perform Hymns and Spirituals, songs of freedom, Country, Blues, Jazz, Rock and Soul all the way to Hip-Hop. Boogie Chillun culminates this experience with their own hallmark song.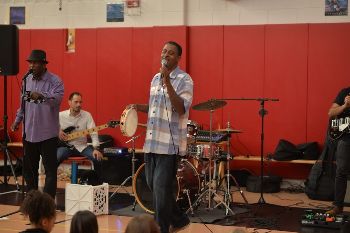 Program Pricing
Single: $1,425
Back to Back: $1,870
3 Performances: $2,430
About the Artists
Derek Graham is a band leader and co-founder of Boogie Chillun, alongside founder and band leader Vaughn Collins. Derek grew up in New Jersey where he honed his skills as a drummer and vocalist. Derek grew up through the 60's and 70's where he was influenced by the sounds of Soul, Funk, R&B and Hip-Hop. As a lead vocalist he recorded his first record single "Wave Craze" in 1983 with the hip-hop group Stocking Cap. The song aired on all the major radio stations in New York City and New Jersey in medium rotation. Derek has also shared the stage with many professional recording acts. Most notably Kool and the Gang, The Spinners, The Drifters and Ziggy Marley. Derek is now the CEO of his own entertainment company "Yahweh! Productions". It has opened many doors in the music industry for him. He has functioned in the capacity as musical director, band manager, educator and booking agent of many outdoor festivals, concerts, schools, coffee
houses and corporate events in the tri-state area. One of Derek's passions is inspiring young minds to pursue, create and explore all possibilities music has to offer. He continues to seek out young talent to mentor and invest in.