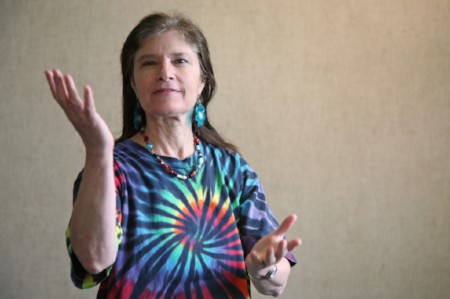 Candace Wolf-Touring Artist Available November 5-9, 2018 May 6-10, 2019
About the Artist
Candace Wolf is a Master Storyteller and teacher who has worked in collaboration with the Kennedy Center, and the Library of Congress. Candace has learned the oral histories, traditional humor and wisdom of cultures worldwide. She has lived among peoples of many communities, including the migrant gypsies in Europe, Mayan Indians in the jungles of Guatemala, fishermen on the Canary Islands, artisans in the ancient city of Jerusalem, rice farmers in Indonesia, and coal miners in Appalachia. Stories in Spanish and English!
Candace is a Touring Artist-please call the office for available dates.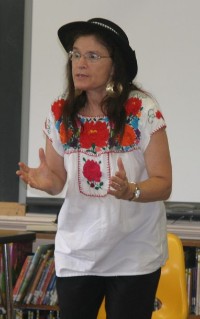 "Stories Without Borders" (Grades PK-12, families)
Build Literacy, expand cultural awareness and learn valuable life lessons with Candace on an imaginative journey to countries and cultures on every continent. Students will reflect, question, sing, laugh, improvise and listen with their mind and heart to legends, folktales and true life stories. These spellbinding and hilarious tales teach the true meaning of honesty, responsibility, courage, compassion and respect. Length: 45 minutes
The Moon in a Tortilla (Grades 1-6)
"You taste the moon when you eat a tortilla, and you swallow sun and fire when you eat a bowl of hot chili."  -Chicano poet Victor Valle
Candace draws upon her experience living with people in countries "south of the border" to help audiences discover enchanting Latin American storytelling traditions that blend Indigenous, African, and European influences. Spanish language, music, and geography are woven into a captivating performance that offers a vision of the Amazon Rain Forest, the era of the Spanish conquistadors, Mexican holiday celebrations, and the island cultures of the Caribbean Sea.
Heroes and Scoundrels (Grades 6-12)
Meet larger-than-life, admirable heroes and despicable villains as Candace spins riveting and suspenseful legends, adventure quests, tales of the supernatural and true-life biographies guaranteed to keep adolescents on the edge of their seats. The program is dedicated to young people who are coming of age in a world where difficult choices must be faced with courage. Length: 45 minutes
Single Performance: $785
Back to Back Performances: $855
Residency: WALKING WITH OUR ELDERS
An Inter-generational Storytelling Journey"Honor Your Elders" is the motto of this very special residency program, which enables older adults in the community to pass along their heritage to the upcoming generation through oral storytelling. Students learn history lessons and character lessons as they interview elders and listen attentively to their life stories. Under the guidance of Candace Wolf, a professional storyteller and oral historian, students will examine the stories for important themes and core values. They will learn to use evocative details and express each narrator's unique voice as they transform these life stories into a beautiful book and dramatic performance.
5 Day Residency $2955, $55 for each additional day