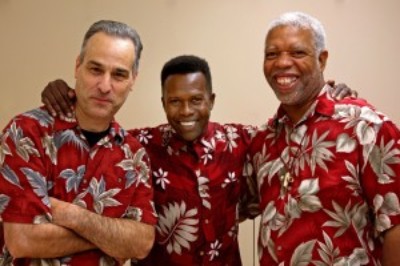 Carnival Trio
Enjoy the rhythms of the Caribbean with Carnival Trio as they demonstrate the steel drums and speak on the culture of Trinidad and Tobago. Students will sing and dance to the island rhythms.
About the Artist
David Gaskin from Trinidad leads this talented trio as they sing and play island songs on their steel drums. The Trio has studied Trinidadian culture and weaves this throughout their exciting program.
"This was my second time having the pleasure of having your show at our school. You do an excellent job of teaching, involving the students and having fun! We will be following up to your performance by making our own musical instruments! Keep up the good work."  Betsy Gonzalez, Windham Center-3rd Grade Teacher
Caribbean Carnival (Grades K-12)
Join the Carnival Trio in this highly interactive program. Swing and sway to the music of the islands. Learn about the culture of the Caribbean, the origins of steel drum music, and how the steel drums are constructed from recycled materials. Program Length: 45 minutes.
FEES
Single Performance: $835
Back to Back Performances: $1100
3 Performances : $1425
Workshops include:
Steel Pan Workshop (Grades 5-12)
Call for pricing on workshops