Caryn Lin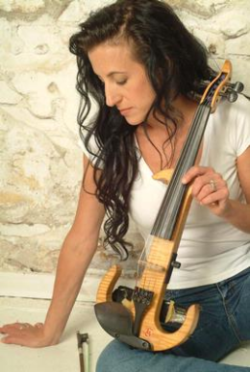 Caryn Lin- "An electric violinist for the space age!"….. plays her 4, 5,& 6 string electric violins and uses sound effects & looping to create short, on the spot recordings of her violin, voice, percussion instruments, & other sounds. Layers of sound over deceptively simple melodies result in music that is both otherworldly & totally catchy; mesmerizing and completely unique! It is eclectic, combining New Age, World, Classical, & Rock seamlessly in a virtual orchestra.
---
Programs
BACH 2 ROCK: The Science of Sound
In the amazing multi-media presentation Bach 2 Rock: The Science of Sound, Caryn Lin literally transforms sound through the use of her five-string electric violin and a myriad of modern technology! The program takes students on a journey from the classical days of Bach to today's techno-wonders. By using modern techniques, including looping and other effects to produce unique and dynamic soundscapes, audiences are introduced to the many scientific concepts involved in the creation of live music. Through the use of technology, three dimensional sound waves become visible, bringing music to life before the audience's very eyes!
Caryn also offers post performance workshops called Electric Sound. She works with smaller groups of students (about 20 per workshop) to demonstrate looping, sound effects and other techniques she shares throughout her performance to give students a more in-depth, hands-on experience in the workshopElectric Sound.
Single Performance: $845
Back to Back Performances: $1150
About the Artist
Caryn began violin lessons at age 9, and studied under Philadelphia Orchestra's Larry Grika until college, where she earned a violin performance degree from Northwestern University. Upon graduation she moved to Germany to study with world renown violinist Suzanne Lautenbacher. Caryn has performed everywhere from The Kimmel Center and Lincoln Center to the Crayola Crayon Factory and a Carthusian Monastery in the French Alps!
Her music has been featured on MTV's The Real World, & on over150 radio stations, in the US, UK, Spain, & Venezuela, and on Satellite radio. She and her music appeared in the movie, "Philadelphia." Her 5th studio album, "The Call" was released in 2006. A 6th CD is currently in the works!  For the past several years this dynamic violinist has primarily been performing her motivational, inspirational, educational, technological, anti-bullying, interactive show, "Bach 2 Rock" in schools. from Massachusetts to Virginia.