Claudia Mathison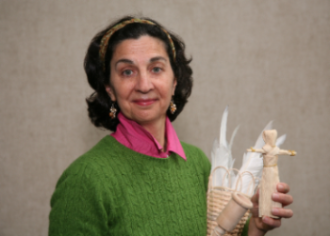 Use visual arts to make subjects such as history come alive for students.  Claudia Mathison can design projects for your curriculum-colonial history, the environment and Asian studies.
---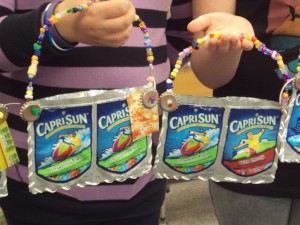 Trash Talk Recycled Art (Grades K-8)
Go Green! Save our planet one foil pouch at a time! In this workshop children ages 5 and older will learn simple ways to recycle every day while creating one of a kind and functional works of art. Using recycled foil pouches, bottlecaps, wood, cardboard tubes, cereal boxes and more the group will design and construct imaginative tote bags, castles, spaceships and abstract sculptures. Let your imagination run wild while decreasing your carbon footprint.
"When is a Square Not A Square?" (Grades K-8)
Students will begin the two sessions by becoming familiar with the achievements of quiltmakers past and present by viewing antique and contemporary quilts. Students in grades K to 2 will use colorful craft paper or easy to cut fabric to design their own square. The shapes will be glued to individual oak tag boards and, when completed, they can be placed together to form one quilt.
Students in grades 3 to the 6th will use a fabric square to create new shapes such as triangles, smaller squares, rectangles. Working with a partner, both students will create the same design in a different color, creating a two color quilt square by sharing their piece. Students in grades 7th & 8th will work on a project similar to 6th grade project but the lesson will involve more measurement, geometry and fractions.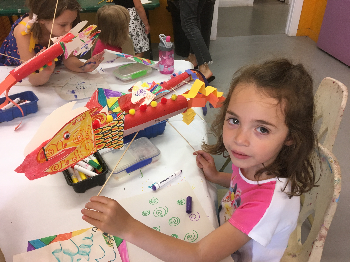 Japanese Carp Kites (Grades K-5)
On May 5th of each year, brightly colored streamers and carp shaped kites fly all over Japan! Using fabric, markers, and ribbon your class will create their own carp kite while learning about life in present day Japan.
The Colonial School House (Grades K-4)
Your students will take a trip back to the 1700s to discover life in a one room school house. Dressed in colonial attire, Claudia will show the children how to make and decorate their own "copy book" and how to write with a goose quill pen. Each child will create a book of their own and will experiment with a feather pen. There will be time to play with colonial toys, view authentic artifacts and maybe dance a traditional jig!
Also available are programs for Grades 3-8 including:
Colonial American Crafts
Native American Crafts
African Crafts
Two Workshops: $515
Four Workshops: $825
Material Fees: $40 per class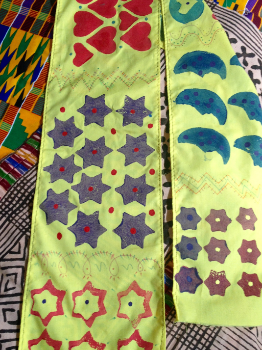 Native Rainsticks (Grades K-6)
Native tribes created rainsticks from desert cactus and used them during rain making ceremonies. The children will learn how to construct a simple rain stick from heavy weight cardboard tubes, paper, tinfoil and dried beans.
Adinkra Cloth (Grades 3-6)
Your students will work together to design their own symbolic Adinkra cloth inspired by those made by the Ashanti tribe from Ghana and the Gyaman people of the Cote d'Ivoire (Ivory Coast).  Adinkra cloth is stamped and patterned with traditional symbols, each having its own meaning.  Through the years, people have decorated the cloths to tell a story, or to express their thoughts or feelings.
Chinese New Year Dragons (Grades K-5)
Your class will create their own moveable dragon using cardboard tubes, colorful papers and bamboo sticks. Music, stories and authentic cultural artifacts will be introduced to the class.
About the Artist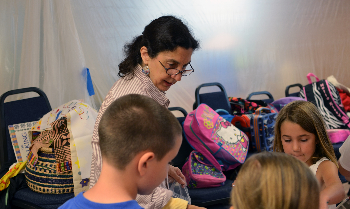 An artist and educator, Claudia Mathison has brought her unique blend of traditional crafts and culture to the Wadsworth, the Mattatuck Museum, the New Britain Museum of American Art and numerous schools and libraries throughout New England. She holds a masters degree in art education and is a faculty member at the Guilford Art Center in Guilford, CT.
Sandra Pavkov from Montowese School in North Haven stated: "Thank you all for your help. Claudia's visit was a great success. The children enjoyed making the copy books and baskets. A number of them asked to take ink home to work some more on their calligraphy. It was a wonderful way to culminate our colonial America unit".