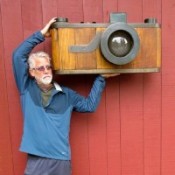 Craig Norton - Digital Photography
Explore the art of digital photography with a professional- Teaching Artist Craig Norton. Craig brings cameras for an entire classroom and can address multiple curriculum topics from Language Arts to Science by engaging students in learning through photography. Students can access their photos through a secure web site during and after the residency.
About the Artist
Craig Norton is a professional photographer whose work can be found in galleries throughout Connecticut and in many magazines and newspapers. For his dedication to teaching photography to students, teachers and families, Craig was selected "Arts for Learning Connecticut's Teaching Artist of Year" in 2012.  He is also an author of the book "Rock The Shot!" which demystifies the art of photography for all ages. Craig has received training in Universal Design for Learning and uses this design in his lessons to reach people of all abilities.
"Through the Lens" Workshops and Residencies
"Through The Lens" workshops and residencies provide students with a creative outlet that inspires them to connect with the subjects they are studying from a new perspective. Photography gives students a chance to be creative with high tech digital tools as well as heightening awareness of their community and environment. Because of the universal applications for photography there are many potential curriculum connections for schools to choose from.
Students learn best by experiencing hands-on exercises and reflections on their work as a group to provide and receive constructive criticism. The purpose of this process is to refine, revise and improve the technical and esthetic aspects of the student's work as well as practice positive communication skills in the classroom setting.
"Through The Lens" residencies are appropriate for 3rd through 8th grade students, as well as "at risk" and special education classes 4th grade and above. This program is also appropriate for hospitals, museums, libraries, camps, community education services and social service organizations for children at risk and with special needs.
Professional Development is also available to involve teachers in the process and leave them with skills to engage their students in learning by using digital media in the classroom.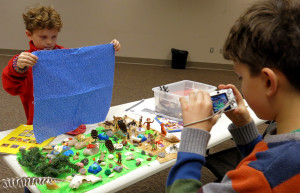 Create Your Own I Spy  1 Session Workshop(Grades 2-6)
Students get a behind the scenes peek at the studios where Walter Wick's beloved I Spy books are created then have a chance to make their own collage scene and photograph it. They work together in small groups using a huge collection of items found in nature and at the bottom of toy chests. Students learn about cameras and how to take interesting pictures. This is a great introduction to photography for schools and public libraries.
Photo Rhythms-Geometry & Engineering Grades 3-8
A one session workshop for a classroom that focuses on the math of geometry and the science of engineering.  Students will view their environment from a new perspective using digital cameras (provided) as they search for  lines, shapes, and patterns during a exploration of their school environment. As students work in pairs they will observe and document geometry concepts in architecture, fashion, jewelry, musical instruments, sporting goods and school materials and they will take photos that will be shared with their class.
Goldsworthy Sculptures and Photography 1 Session Workshop(Grades 2-8)
Inspired by Scottish sculptor Andrew Goldsworthy, Craig Norton presents a hands-on experience for students to create an ephemeral sculpture made entirely of items found in nature and then photograph it. After viewing a short video about Goldsworthy and his unique creations, students learn about how to make a sculpture using found objects. They work together in small groups to form their own sculptures and use digital cameras to capture the scenes for posterity.
Art of Water 5-8 Day Residency for 4th Grade 
Core Science Curriculum Framework: 4.3a, 5.4a
Students get hands-on learning and creative experiences with cameras while exploring various scientific aspects of water to better understand the water cycle and conservation. All projects are based on researching, observing, photographing and creating artistic projects that involve the water cycle. When possible, we visit nearby natural habitats such as a marsh, lake or river to capture the environments from both scientific and artistic perspectives. The residency begins with professional development for the teachers and culminates with an exhibit of students' projects.
The Art and Science of Photography-A Study of Light  5-8 day Residency  (Grades 5-8)
Core Science Curriculum Framework: 5.1b, 5.4a, water 4.3a, 5.4a
Next generation Science Standards 5-ESS2-1, 3-Ess2-1,ESS2-C, ESS2D
How do the scientific characteristics of light relate to cameras and photography?
Students get hands on learning and creative experiences with cameras and explore various scientific aspects of light to better understand the physics of light and its affects on photography. Learn how the camera reads light temperature (color), texture (hard/soft), direction (shadows) and intensity. The residency begins with professional development and culminates with an exhibit of students' projects
Photoetry: Portrait and Poetry Workshop (Grades 5-8)
This two session workshop combines portrait photography and poetry to create a "Who Am I" poster. Craig uses prompts to get students writing about their strengths, accomplishments, role models and goals in life. Students also learn about portrait photography and what makes an interesting image. They photograph each other with their poems projected or written in the background of a portrait or if time and resources allow, we use Picasa editing to integrate their photo and poem into one image.
Walk a Mile In My Shoes-Character Building Workshop (Grades 6-8)
This arts integrated character building workshop begins with a discussion of what it's like to be a victim, witness, ally and aggressor in a bullying situation. Students learn about empathy, share their experiences in a group discussion and journal from different perspectives. Students then role play in small groups and photograph the scenes for an Inspirational Anti-bullying Poster. They review their photographs and written observations to choose images and sentences to be included in the poster. Share time allows the students to reflect on their experience and they discuss coping skills for dealing with bullying situations.
Technical Requirements
The artist will provide up to eighteen digital cameras, a printer and lap top computer. A projector or large flat screen TV is requested at the site. If students/teachers wish to learn about editing, then access to a computer lab with Picasa is requested. The school will receive a CD and/or secure password protected web gallery with the students photographs as well as a limited number of prints.
Two Workshops: $515
Three Workshops: $665
Four Workshops: $820
Five Day Residency:
Two classes per day: $2,575
Three classes per day: $3,315
Four classes per day: $3,825
Materials cost: $7 per student