Cyd Slotoroff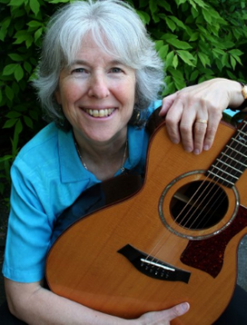 Cyd's interactive programs use songs, songwriting and discussion to promote character education and positive school climate.
---
Programs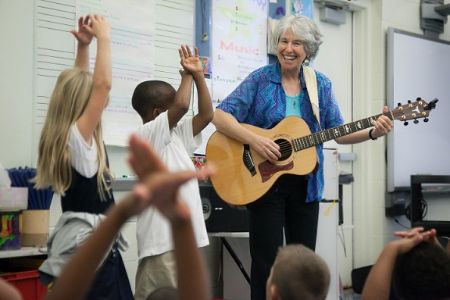 We Can Get Along (Grades K–3)
Students listen, move, sing along and co-create songs about friendship, fairness, respecting others, and solving problems with peers. This fun and interactive performance (or workshop) features songs that bring character education to life. For grades K-3.
The Kindness Project Residency (Grades 2-5)
This 2-5 day multi-disciplinary residency increases students' awareness and motivation to be more kind to classmates. Each class listens to Nancy Wallace's book, The Kindness Quilt, and creates a paper quilt – a colorful collection of each child's drawing of their own act of kindness. Then Cyd works with each class to
compose and record their own kindness song. Throughout the residency, students are developing grade level writing, listening and speaking skills.
Creating Community (Grades K-12)
Drawing on the power of contemporary folk music, Cyd sings true songs about young peoples' experiences and engages students to talk honestly about how they treat each other – about friendship, popularity, status, and the pressures to fit in. Students then develop strategies for taking a stand for themselves and others to create a more respectful school community.
Songs of the Civil Rights Movement (All Ages)
Educational and entertaining, this program introduces students to the legendary civil rights music of the 1950's and 60's. Weaving in stories and historical notes, Cyd engages students in dialogue to help them understand the social, emotional and political context of the songs and of the movement. Students also learn the critical role of music in sustaining the Civil Rights movement.
About the Artist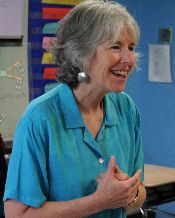 Pete Seeger described Cyd as a "wonderful, singer, songwriter and songleader". And she is! Cyd is a professional singer-songwriter, guitarist and recording artist with over 30 years of performing and leading workshops with students from kindergarten through college. Using her skills and insights as a Board Certified Music Therapist, and as a diversity trainer with the Anti-Defamation League, Cyd addresses the issues important to youth with a unique blend of sensitivity, creativity and humor.