Cyd Slotoroff
Create a more positive climate in your school or community. Singer, songwriter Cyd Slotoroff brings insightful and impactful workshops and residencies that are tailored specifically for your area of need. Whether writing a school song or delving into poignant songs that deliver a message and leading guided discussions on critical topics important for student development at all levels.
---
Programs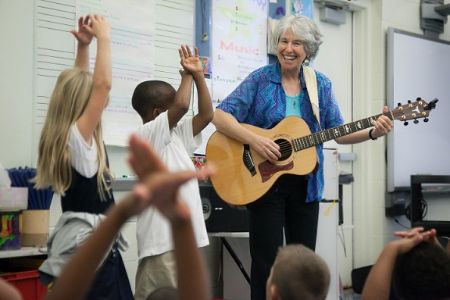 We Can Get Along (Grades K–3) Performance for 150 or Classroom Workshops
Students listen, move, sing along and co-create songs about friendship. fairness, respecting others, and solving problems with peers. This fun and interactive performance or workshop features songs that bring character education to life. Length: 40-50 Minutes
Single Performance: $500
Back to Back Performances: $640
Three Performances: $785
Four Performances: $930
The Kindness Project: a Residency for Grade 2 and Grade 3
This 3-6 day multi-disciplinary residency increases students' awareness and motivation to be more kind to classmates. Each class listens to Nancy Wallace's book, The Kindness Quilt, and creates a paper quilt – a colorful collection of each child's drawing of their own act of kindness. Then Cyd works with each class to compose and record their own kindness song. Throughout the residency, students are developing grade level writing, listening and speaking skills.
Follow up: teachers are encouraged to spend 15 minutes every Friday having students draw, label, and share an act of kindness they did or received that week. Students can also sing along with the CD after the residency.
Creating Community: Appreciating Differences (Grades 3 – 10, 25 students)
Drawing on the power of contemporary folk music, Cyd sings true songs about young people's experiences and engages students to talk honestly about how they treat each other – about friendship, popularity, status, and the pressures to fit in.  Students then develop strategies for taking a stand for themselves and others to create a more respectful school community.  Length: 45 – 60 minutes
What students are saying about Cyd's Creating Community Program
"Your songs really made a mark on me. They really made me see that peace is the best way of life! The song about the boy who was left out at camp expressed how we can use our imaginations."

"I learned that it's ok to be different and to respect people's differences.  I also learned you need to stick up for what you believe in.  I saw things from other people's point of view." -- Middle School Student, Isaac School, New London

"Going to the presentation, I honestly didn't think it would have affected me the way it actually did. Every song that our speaker sang had such deep meanings in the stories. It showed me that regardless of one's culture, religion, race, or sexuality, we are all human – we should all be here for each other ." -- Student at Coginchaug High School
4 Performances (1-2 classes/performance):     $730
2 Workshops:     $500
3 Workshops:     $570
4 Workshops:     $690
3 Day Residency:     $1,885
4 Day Residency:     $2,285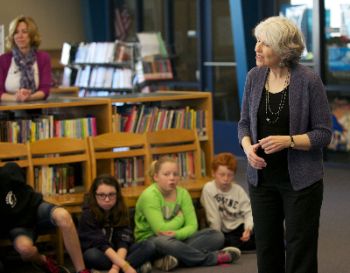 Songs for Learning (Grades 3-5)
This workshop/residency focuses on reading, speaking and listening, and writing standards as well as conflict resolution skills. Students will listen to a song about two friends in a fight who resolve their problems by talking it out. They then engage in collaborative discussion about the theme of the song, followed by collective and individual writing experiences. Length: 50-60 minutes

Songwriting From Your Curriculum: (Grades 3-8)
What could be a more effective, creative, and fun filled way to synthesize learning than writing a song about it! Cyd uses songwriting to help students to summarize and integrate what they have learned in class in any subject. In the process, students also learn about elements of poetry and music, including metaphor, simile, meter, rhyme, rhythm and melody.  A CD recording of student's songs will be created at the end of the residency.
Songs of the Civil Rights Movement (Grades 5-12)
Educational and entertaining, this program introduces students to the legendary civil rights music of the 1950's and 60's. Weaving in stories and historical notes, Cyd engages students in dialogue to help them understand the social, emotional and political context of the songs and of the movement. Students also learn the critical role of music in sustaining the civil rights movement. Length: 45 – 60 minutes
Songs for Learning: Improving Language Arts Skills and Classroom Culture 
Tap the excitement and power of songs to engage your students in a wide variety of language arts learning activities. Children of all ages love listening to and singing along with music. This workshop will demonstrate the use of K-6 grade level appropriate popular and traditional songs as catalysts for discussion, writing prompts, and activities that will enhance students' oral and written language arts skills. In addition to addressing CT Core Curriculum Standards, Cyd will demonstrate how to use songs and related activities to improve your school climate. No musical experience required.
About the Artist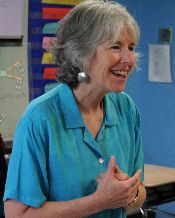 Cyd Slotoroff is a professional singer-songwriter, guitarist, and recording artist with over 20 years experience. As a performer, educator, certified music therapist and as a diversity trainer with the Anti-Defamation League, Cyd addresses the issues important to youth with a unique blend of sensitivity, creativity, and humor.