David Harrell
*PROGRAMS AVAILABLE IN DIGITAL FORMAT*
---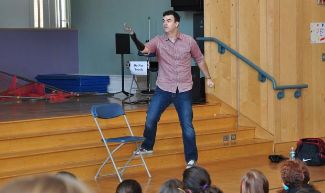 Students learn the importance of learning to accept differences in one another through David's dynamic and personal storytelling style.  
---
The Boy Who Would Be Captain Hook (Grades PK-2)
David always wanted to be a part of the normal playground games, but was only included when the other kids recognized that his prosthetic hook made him perfect for the part of Captain Hook in Peter Pan. Always wanting more, David demonstrates that by not judging a book by its cover, everybody grows. This moving and humorous look at growing up without a right hand serves as an excellent vehicle for character development curriculum and teaches how David demonstrated perseverance and overcame the struggles of identity.
A Little Potato and Hard to Peel (Grades 3-8)
In this inspiring and humorous program, David Harrell shares the highs and lows of growing up without a right hand. Portraying colorful and influential characters from his own family, TV, and film, David shares the importance of not being defined by your limitations.
Single Performance:  $785
Pair of Performances: $1,285
Testimonials
"The message of David's show was fantastic, but it was his delivery that mesmerized our students. I have rarely seen middle school students so quiet and engaged during an assembly!"
"The show for grades 5–8 was one of the best I've seen at CPS. The one-man show was highly engaging and really drove home the point that we need to refrain from judging those who are different. The life story shared by the actor through a series of comical and entertaining monologues truly helped students understand what it was like to grow up with a disability (prosthetic arm). Students learned empathy. At first they did not know what to make of the man with one arm, but as he begin to tell about his journey and the experiences he encountered—students were mesmerized."
"David Harrell exceeded all of our expectations! The school principal and teachers raved about his presentation. David was engaging and entertaining, and delivered a powerful message to the students about acceptance of oneself and others. I have already recommended David's program to another school in my district."
"This was a wonderful show and moving performance by David. I would highly recommend it to all! The kids enjoyed it and learned some important lessons. And the teachers loved it!"
"David was an excellent performer addressing a tricky subject. The children were spellbound by his performance in both age groups. He was funny, fun, articulate, brave. Just excellent! One teacher said, "He was able to connect with kids with his 'hip' humor and his acting about a very serious message. You could have heard a pin drop." Another said, "He was so inspiring and he really energized the kids!" Really, I can't say enough good things. Plus he was amiable and flexible, polite and interesting. Thanks for a great performance!!"
"The teachers and kids LOVED David. His stories were engaging, inspiring, and entertaining, and teachers have told me, one week later, David's visit has been sparking some great classroom conversations."