Dennis Waring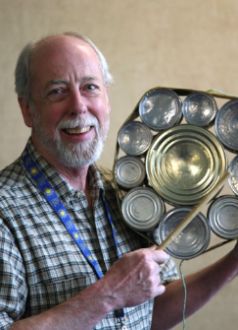 Combining science and music, Dennis Waring and your students will demonstrate how many items considered trash can be used to make musical instruments. Dr. Waring analyzes the concepts of vibration, resonance and tone quality using unusual musical instruments from around the world as he explores and explains the mysteries of the science of sound. Learn how to make a box banjo that is playable!
---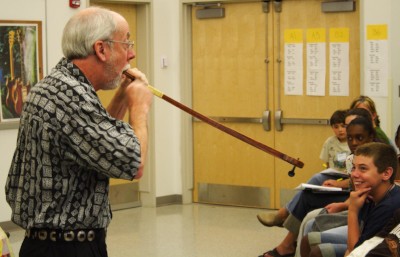 Programs
Trash To Tunes  (Grades K-12)
Music-Science-Fun! Imagine two giant tables covered with magical, mythical, musical instruments. "From Trash To Tunes" is a performance of scores of handmade musical instruments based on ideas from around the world. Dr. Waring weaves tales of the origins of music and how all cultures through time have built fascinating sound making devices. Interesting sights, sounds and stories provide students with new insight into folklore, music, craft, science and world view. Instruments are from materials which are usually thrown away as trash. No one can play a garden hose or wash tub like Dennis Waring!!  Students will learn all about vibration and sound in this fun performance. Length: 45 Minutes
Music Around the World(Grades K-12)
Musical Expeditions is a fascinating interactive tour through the musics of six different world cultures. Indigenous musical instruments, each culturally unique, are demonstrated through story and song. Small ensembles of selected participants then engage in instrument play reflective of each of the culture areas: Native Peoples, Latin America, Africa, India, China, American Folk music. Designed for smaller audiences,* this program emphasizes participation for everyone. Length: 1 hour
Box Banjo Workshop Grades 3-12 (For Classroom, Interdistrict or Family Programs)
Following the performance and prior to the workshop, a 30 minute presentation will demonstrate to students how they will assemble their own box banjo from recycled materials.
Students build their own cardboard box banjo using measuring and construction tools. Students will learn to tune and play a simple tune on their instruments. Length: 1 hour workshop
Tables and volunteers required. ($5 per Student Material Fee)
Single Performance: $700
Back to Back Performances: $820
One Performance and 3 Workshops or Two Performances and 2 Workshops: $1020 plus $5 per student material fee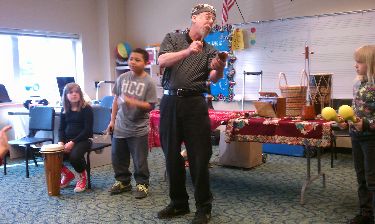 Extended Residency Available
Residencies include sessions involving refining and decorating instruments. Participants are shown how to hold and play the instruments they have built. Concepts of tuning, melody, scales, rhythm and group playing are explained and practiced. Instruments are then coordinated into small ensembles for performance.
The Transatlantic Experience (25 Teachers)
Through fun, informed musical activity featuring the latest techniques and resources, ethnomusicologist Dr. Dennis Waring involves teachers in song and instrument play representative of three interconnected cultural traditions: Africa, Cuba, and Brazil. By singing and drumming traditional music of Africa, playing characteristic Cuban rhythms, and experiencing the Brazilian samba, participants will appreciate how four hundred years of intersecting musical folkways have shaped a large portion of today's global expressive culture.
Teachers will gain:
A working knowledge of selected world drumming traditions—their history, music literature, and sources in art and folk traditions.
 An awareness of the pluralistic nature of most musical traditions.
An understanding of various culture's musical organization from many perspectives: value systems, relationships to language, musical structure, transmission strategies, social hierarchies and, within their socio-cultural contexts, the relationship of music to the other arts, religion, philosophy, and human values.
An understanding of the fine points of performance, improvisation, and composition in more than one tradition.
An understanding of the political, social, technological and economic factors which affect the arts in various cultures in order to make informed decisions as listeners, composers, consumers, and/or patrons, taxpayers, and voters.
An appreciation of classical, folk, tribal and popular musics as essential to a population's local, regional, national and global identity.
Development of non-ethnocentric views and positive attitudes regarding diversity issues.
Recognition of the interconnectedness of all subject disciplines
Box Banjo (25 Teachers)
As teachers learn about vibration and sound they will construct banjos using simple measuring and tools.  Each teacher will leave the workshop with knowledge about the science of sound and a playable tunable instrument that they can take back to their classroom and use with their students. ($5 material fee applies)
About the Artist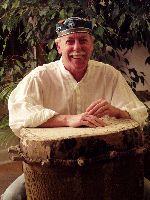 Dennis Waring, ethnomusicologist, music educator, performer, instrument maker, and author of six books, is proprietor of Waring Music, providing music resources for a wide variety of applications. He is a Connecticut Master Teaching Artist and was selected as "Connecticut State Troubadour" for 2003-2004. Dr. Waring has circumnavigated the world twice with the University of Pittsburgh's Semester At Sea program as shipboard ethnomusicologist. He is presently manufacturing musical instruments for the classroom and community and performs regularly with the world music ensemble, Sirius Coyote.
"We really enjoyed your performance! It was interesting to see how you changed trash into music. We are very inspired to make music from something we would usually throw away!"   Students at Gideon Welles School