Flamenco!
*PROGRAMS AVAILABLE IN DIGITAL FORMAT*
---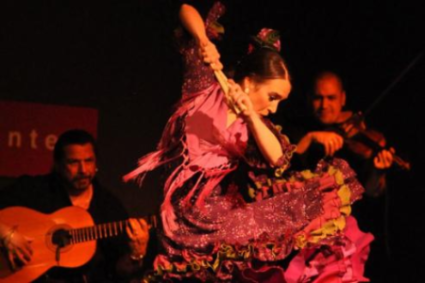 Introduce your student to Flamenco with culture, history, geography and language. During this exciting performance, students will learn the about dance, music and Spanish culture. Through listening to music, walking to the beat, and doing different movements in sync with the music, students learn valuable listening and coordination skills, while gaining the ability to count different time signatures and understand the math to music connection.
---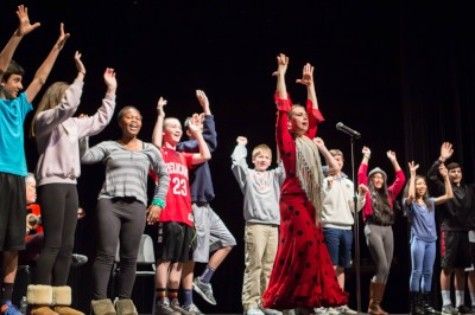 Program
Olé (Grades K-6)
Flamenco-Ole!" combines an exciting and colorful performance with interactive activities and educational explanations, giving students a hands-on experience of the Spanish art of Flamenco.  With top-notch artists, including live guitar, singing, and dancing, students are able to see and hear the different sounds, styles, and emotions inherent in Flamenco. Through age-appropriate explanations, they learn about the geographic and historical roots of the different cultures and religions that created Flamenco, while also learning Spanish vocabulary and counting. To top it all off, audience members learn how to "tocar las palmas" (rhtyhmic hand-clapping), "zapatear" (do footwork), and "tocar las castañuelas" (play the castanets).  Students and teachers alike come out of this performance with a big smile on their face, shouting "Ole!"   
Length: 45 minutes.
| Fees: | DUO | TRIO |
| --- | --- | --- |
| Single | $1,000 | $1,355 |
| Back to back | $1,220 | $1,715 |
| Triple | $1,355 | $2,140 |
Workshops are available- email Loraine Brown for pricing.
About the Artist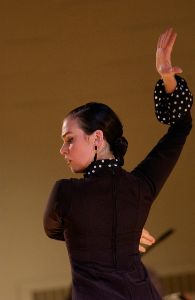 Rebeca Tomas began her formal dance training in Granada, Spain at Maite Galán's Escuela de Danza Española. She later moved to Madrid, where she studied at the internationally renowned Flamenco Academy Amor de Dios under such figures as Maria Magdalena, La China, Manuel Liñán, and Rafaela Carrasco. There she appeared at various tablaos, including Al Andalus and Las Carboneras. She has also studied in Seville with Juana Amaya, Pastora Galván, and Yolanda Heredia, focusing specifically on Bata de Cola technique.
Now based in New York City, Rebeca Tomas performs and tours with numerous Flamenco dance companies, including Flamenco Vivo Carlota Santana, Jorge Navarro's Flamenco Dance Theatre, Oscar Valero, Edwin Aparicio, and Pasión y Arte. Most recently, she appeared with Noche Flamenca in its Summer 2008 season, sharing the stage with figures such as Soledad Barrios, Alejandro Granados, and Antonio Jimenez "el Chupete." In May 2008, she received a grant from the Jerome Foundation to return to Spain and deepen her studies in Bata de Cola and, in June 2008, she received a scholarship to participate in a summer intensive program at Jacob's Pillow.
"Our students were in rapt attention!  They love that some of them got to go up on stage!  Our Music Teacher said it was the most musically wonderful program of all year.  We will definitely have Flamenco Ole again at our school."  Hopewell School, Glastonbury