Gizmo Guys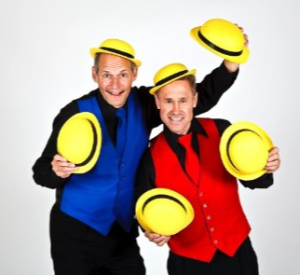 Simply put, the Gizmo Guys are a comedy juggling act. But they are much more. Their act includes original routines, quick-witted verbal repartee and world class juggling skills in a very light-hearted approach to the art.
---
Program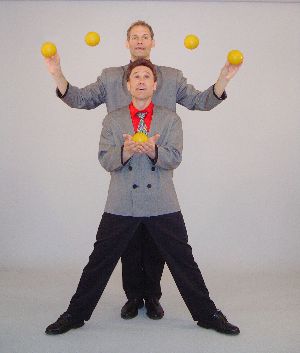 Gizmo Guys (Grades K-6)
Combine world-class juggling skills, solid links to science and math – mix it with lots of comedy, and you have The Gizmo Guys. With unbelievable teamwork and cooperation, this duo, which has been performing in schools for over 20 years, will amaze the audience with their mastery of patterns, gravity, symmetry and fun! Program Length: 50 Minutes
1 Performance: $1,270
Back to Back Performances: $1,720
About the Artists
A Winning Combination!
Touring worldwide since 1987, the Gizmo Guys have appeared before well over a million people in more than 2500 live performances. They have performed for millions more on television. In addition to touring extensively in the U.S. and Canada, the Gizmo Guys have strutted their stuff in places as diverse as Saudi Arabia and Japan and have taught juggling at the renowned French and Canadian National Circus Schools.
Performing as the Gizmo Guys, Allan Jacobs and Barrett Felker have amazed and amused audiences around the world. They work in a great variety of venues including theaters, corporate functions of all types, cruise ships.... you name it, they've done it. Sure, they've made numerous television appearances, won international juggling competitions, and taught at top circus schools. But what makes their act so appealing is their uniquely winning combination of dazzling technique and infectious humor. The Gizmo Guys' rapid-fire act exhilarates and inspires sidesplitting laughter in audience members of all ages.