Goodnight Moonshine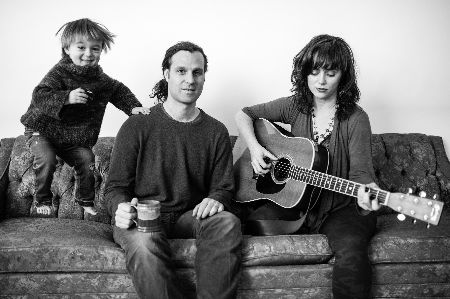 Married couple Duo Eben and Molly are experienced teaching artists and musicians and hope to share this journey with their larger communities. Goodnight Moonshine delivers inspiring and supportive performances and workshops that are available for all audiences on topics of sensory-songwriting techniques, vocal direction and instruction, and guitar lessons for all.
---
Programs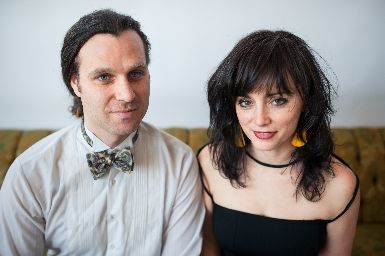 Songwriting for Everyone:
Using a random melody generator and sensory-writing techniques we spontaneously write a brand new song with the group. Anyone can write a song!
The Biz:
In an open format, we discuss the ins and outs of being working artists. Everything from how we built our life, to what it's like to take a baby on tour, and a whole lot in-between.
Vocal Time:
Using our techniques from classical and pop, that have been honed through years of musically directing vocal groups, we explore the voice with a series of fun exercises and exposés.
Guitar Time:
Guitar lessons, all levels and styles. 
About the Artists
     When you first hear Goodnight Moonshine it brings a wave of nostalgia. Courageous unveiling and depth of experience make the collaboration between married couple Molly Venter and Eben Pariser addictively captivating.
     Molly Venter's voice bends from a sweet moan to a gritty shout and back into a playful run in the space of a few bars and "it all goes down like silk," writes American Songwriter Magazine - "few singers turn first time listeners into eternal fanatics as effortlessly as Molly Venter." The emotional potency of her voice is surrounded and supported by a lush landscape of harmonies and minimalist orchestrations conceived by Eben, on vocals and electric guitar. Their music encourages listeners to embrace opposing desires, to challenge as well as support each other through inspiration and dissolution, and hopefully to share this journey with their larger communities.
      Venter's voice has caught the ear of industry giants, and been prominently featured on FOX television, Apple Computers and in Warner Brothers films.  Molly and Eben's Co-write "Willow Tree" was a #1 hit on the folk charts in 2014 and was featured in USA Today. Consummate performers, Molly and Eben have also appeared nationally and internationally, 100+ shows a year, with their respective bands Red Molly and Roosevelt Dime.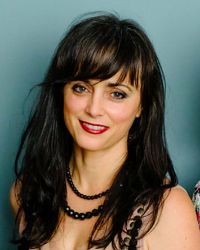 Molly Venter 
Molly Venter has been turning her journals into songs, turning her songs into records, and playing shows coast-to-coast for nearly 20 years; first as a solo artist, next in Red Molly, and now in Goodnight Moonshine as well. Playfully expressive and emotionally potent, her voice and songs have been featured on network TV, feature films and indie movies. She's a powerhouse vocalist with quirky phrasing "...and it all goes down like silk." Writes American Songwriter Magazine - "Few singers turn first time listeners into eternal fanatics as effortlessly as Molly Venter." Her latest album w/ partner Eben Pariser is titled "I'm the Only One Who Will Tell You, You're Bad" and it chronicles post-honeymoon, post-kid relationship in all it's heart-opening and door-slamming glory. She lives in New Haven, CT with her husband and not-so-terrible 4 year old son Otis.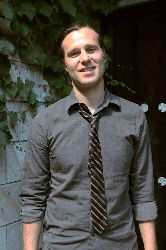 Eben Pariser
Eben Pariser studied music at the Oberlin Conservatory. He worked for nine years as a neuroscientist, researching birdsong and neurogenesis at New York's Rockefeller University and co-authoring several papers in prominent scientific journals, before shifting to music full-time. He plays guitar and sings in Goodnight Moonshine, and Roosevelt Dime, and has recently become the musical director for Red Molly. His songs "Willow Tree" and "Oh To Be" have hit #1 and #6 on the folk charts. Eben's experience as a musician runs the gamut- he sings, plays, directs, engineers, mixes, writes and arranges for horns and strings, produces records, and is a songwriter. As a 13 year old growing up in rural Maine his guitar allowed him entry to the bars where his mentors were playing, and he learned by sitting in. Living in Brooklyn, he began Roosevelt Dime in 2008 and did hundreds of shows in the streets, subways, parks and small clubs, building an institution among the NYC horn-players and street band community. He began touring heavily in 2011 and continues to tour with his 3 bands and often with his 4-yr old son Otis in tow. In his spare time he likes to think about ways to live less wastefully, and how to be more kind.