Grumbling Gryphons
*PROGRAMS AVAILABLE IN DIGITAL FORMAT*
---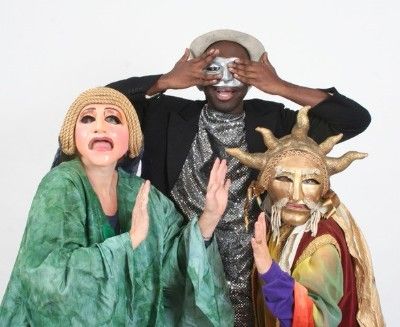 Grumbling Gryphons is a Traveling Children's Theater (winner of the 2003 Connecticut Governor's Arts Award) and is the creation of founder and Artistic Director Leslie Elias, Winner of Connecticut Arts Hero Award (2018) – playwright, actress, storyteller, and theater director. Grumbling Gryphons, a multi-talented group of actors,  provides performances, summer camp workshops, and residencies for children and adults using subjects such as poetry and myth, science and environmental themes, building self-esteem, or dramatizing historical themes!
---
Programs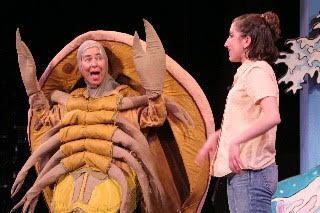 The Ghost Net: An Environmental Musical of the Sea (K-8)
Ghost Net premiered in 1990 as part of an environmental expo – "The Visit of the Mimi" held at Captain's Cove Seaport in Bridgeport, CT, which thousands of school children attended. With the invaluable input by marine biologist Barbara Whitman and other environmental educators, Leslie Elias created a play that has served as a powerful vehicle for promoting awareness of our planet's rapidly depleting oceans and endangered marine life. Since 1990 the show has toured the United States, receiving rave reviews for it's beautiful artistry and timely message. Sixty of the ocean costumes were featured in New York City's 25th Anniversary of Earth Day. In Florida, The Grumbling Gryphons were instrumental in helping to get Amendment Three passed, which enforced the banning of net fishing. The Ghost Net was chosen to be the kickoff event for New England's Coast Weeks as part of National Beach Cleanup Campaign. .Says David Brown of Miami, "As an environmental educator for the past sixteen years and a marine science instructor for the past nine, I have not been able to find a program of comparable quality
In a school performance of The Ghost Net: An Environmental Musical of the Sea a principal may don a special "Trash-Robe" and join the oldest students who wear original trash outfits in the musical/dance number called the "Slimy Sludge Rap." The music teacher joins other students in a calypso melody called The Coral Reef Calypso where the stage is transformed into a dazzling ocean filled with students dancing and singing as beautiful tropical fish. Still other students take on the dramatic roles of skeleton fish, entrapped in the deadly ghost net, which to this day is a major deathtrap for whales, dolphins and various sea creatures. The younger students play the parts of manatees, clams, minnows, electric eels and more. At the end of the show, all the children join in the final song, "Stop the War on the Sea" and help pull out the ghost net, working together to rid the ocean of this menace.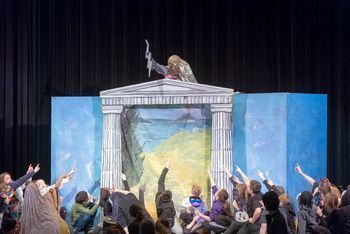 The Myth of Persephone (Grades K-8)
The Myth of Persephone is a spellbinding dramatization of the ancient Greek myth, which tells the story of how the seasons came to be, and exposes children to the classical Greek myth in a highly entertaining and engaging way. Lord Pluto takes Persephone away from the earth and her mother, Goddess Demeter, and holds her captive in Hades, guarded by Cerberus, the Three-Headed Dog. The children in the audience become the Greek chorus, chanting, singing and helping the gods and goddesses rescue Persephone from the underworld. With their aid, Persephone returns from Hades and we all learn how the seasons came to be. Robert Flannagan who designed the masks, also designs for the Muppets. This show opened in 1980 in New York City's Central Park and has toured internationally delighting audiences ever since.
"We hosted the Grumbling Gryphons for a workshop and then performance of "The Myth of Persephone" and the result was hilarious, beautiful, and magical. The production quality and standards of Leslie's troop are exceedingly high. You are dealing with professionals. The costumes were gorgeous and some of the masks used for the show were beautiful enough to be in a museum. Leslie led about 12 children in a workshop in preparation to perform "The Myth of Persephone" with her troop and the kids were excited and engaged. They learned some greek words, worked on rhythm, had a literature lesson on mythology and got their wiggles out — a well-rounded educational experience disguised as pure fun-"Molly Salisbury, Scoville Memorial Library".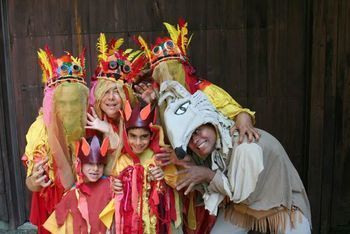 Native American Trickster Tales: Animal Legends (Grades K-6)
Native American Trickster Tales: Animal Legends developed with the cooperation of The Institute for American Indian Studies in Washington, CT. where it premiered for founders' day on July 31, 1982. Says Trudy Richmond, former chief of the Schagticoke Indians – "Your sensitivity to Native American life ways and culture is appreciated…thanks for the wonderful performance!" In 1989, this show was performed at Lincoln Center for the Performing Arts for close to a thousand people. Children are spellbound by three humorous tales, which tell how the brave and ingenious trickster animals­–Raven, Skunk and Coyote–come to the rescue of the Indians. The sets, costumes and masks, songs and instrumental music, are all authentic representations of Plains Indian, Fox Indian, and Northwest Coast Native American cultures.
"Thank you! Thank you! Thank you for your absolutely wonderful performance of TRICKSTER TALES: NATIVE AMERICAN ANIMAL LEGENDS at The Maine State Music Theater. Everything about the production was superbly stimulating, funny, entertaining and educational. We are particularly grateful to you for the pre-show workshop for the very young special group of children who attended. I can relate that the attention and involvement your troupe accorded made their lives, if only for a few hours, that much more important. We look forward to more Gryphons productions!" - Richard Kazimer, Maine State Music Theater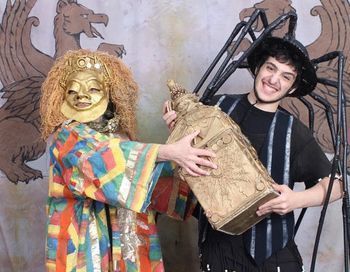 Anansi The Trickster Spider (Grades K-6)
A West African Folktale was featured at The American Museum of Natural History in New York as part of a celebration of Black History Month. Anansi retrieves stolen stories from Nyame the Sky God by tricking animals of the jungle and enlisting the help of the audience. Through pre-performance workshops, children become village dancers, monkeys, elephants, hippos, bees, crocodiles, spiders and more learning songs, chants and movement to perform in the show. 
"Earlier this spring, Berkshire Country Day School was treated to a wonderful assembly program by Grumbling Gryphons, who presented a play about Anansi the Spider to our students PK-6. Our students were enthralled by this classic story and the dynamic show. The actors were lively and engaging, and they incorporated our third grade class as actors in the program having worked with them before the performance. The costumes and sets were beautiful, and the script, music, and sound effects were just right.  In short it was a perfect assembly". Head of School Berkshire Country Day School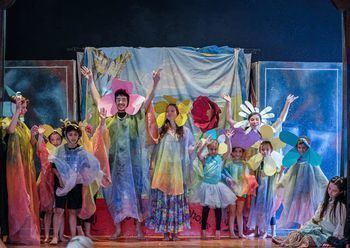 The Snow Queen
A dramatic adaptation of Hans Christian Anderson's classic fairytale with live music, masks and audience participation Leslie Elias, director of Grumbling Gryphons Traveling Children's Theater wrote, directed and composed the original music for this engaging production and timeless tale.
This Danish fairytale celebrates the heroism of girl named Gerda and her brave quest to rescue her best friend Kaye from the icy palace of The Snow Queen. Gerda engages the audience on her mythical journey where she encounters forgetful flowers, a gypsy robber band and a spellbinding icy puzzle that she must solve to free her friend.
With same day morning pre-performance drama workshops, students K-8 become part of the lively production where they play parts such as goblins, robbers, flowers, snowflakes animals and more. Ellen Moon of Cornwall Bridge, long time mask maker with Grumbling Gryphons, made the scenery, costumes and masks. The magic of Hans Christian Anderson will be sure to delight the eye and ear with music, dance, drama and a professional cast of actors and musicians.
About the Artists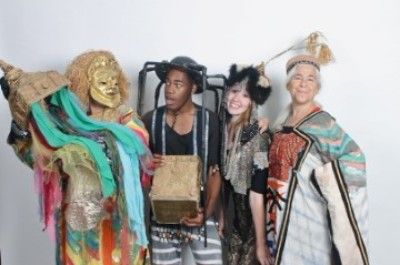 Grumbling Gryphons Traveling Children's Theater, founded in 1980 (winner of the 2003 Connecticut Governor's Arts Award) celebrates 40 years of bringing quality performances and educational workshops to audiences throughout the world. Artistic Director Leslie Elias and company perform environmental and multicultural shows for children of all ages. The company performs in schools, theater, libraries, museums and festivals throughout the U.S and abroad. Grumbling Gryphons is well known for engaging children in a highly participatory drama experience, with live music, marvelous masks, and imaginative content. Pre-performance workshops and residencies in drama, storytelling, music, movement, mask making and puppetry add to their hands on approach.
"I highly recommend Grumbling Gryphons Traveling Children's Theater to perform in your school. Leslie Elias, artistic director of this interactive company has been working magic for years! She deserves a world of credit for providing excellent and quality theater to children throughout our state and beyond. Grumbling Gryphons is a fantastic theater! Leslie and her actors truly care about the children and that is shown in their work! To watch the children just glow when theater is involved in their lives is a wonderful sight to see! We hope that Grumbling Gryphons will continue on for many years in their work in theater and education" - Joel Levitt, Retired Coordinator of Arts Danbury Schools, CT