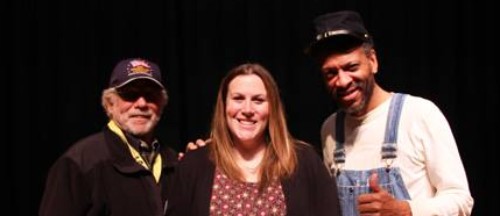 History Alive
HISTORY ALIVE is a theater company dedicated to bringing American History alive for students. HISTORY ALIVE presents one or more unforgettable characters from the American past. Its biographical performances are written and performed with historical accuracy and dramatic flair.
About the Artist
HISTORY ALIVE! is a Theater Company Dedicated to Bringing American History Alive for Students.  HISTORY ALIVE! presents in each 45 minute performance one or more unforgettable characters from the American past. Its biographical performances are written with historical accuracy and dramatic flair by playwright and young adult author Steven Otfinoski, and are staged by Tony-nominated Broadway performer and director Steven Boockvor. Each performance is followed by a meaningful discussion between students and the actor. Often the playwright or director is present to participate and answer questions.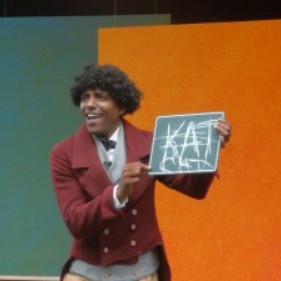 Two for Freedom (Grades 6-12)
The stories of Jack Arabus and Frederick Douglass; both born slaves but freed as a result of their decisions and actions. Jack Arabas won his freedom by fighting with his master in the Revolutionary War, and Frederick Douglass gained his freedom by escaping to the North. "I never wanted to be no soldier, but then I wasn't fond of being a slave neither"
With these words JACK ARABUS stepped up to fight for his country during the Revolutionary War in exchange for his freedom's rights. He embodied 3 keys to success in life: Believe in Yourself; Take advantage of every opportunity; and use the power of the spoken word and written language to effect change for yourself & society.
Length: 45 minutes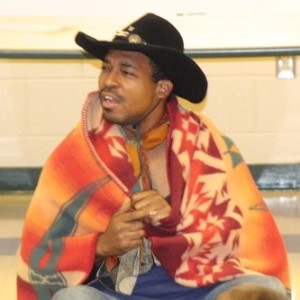 Braggarts, Bulldoggers and Desperadoes: The Black Cowboys
"I came here to die today . . . not to make a speech"  These are the words of Cherokee Bill, outlaw and killer, just before he was hanged at Ft. Smith, Arkansas in 1896.  This black Billy the Kid is just one of the three fascinating, real-life black cowboys of the American West whom students will meet in this exciting program.  They will also encounter: Nat Love,  better known in cow country as Deadwood Dick, is the only black cowboy known to have written his autobiography — a rollicking mixture of fact and fiction.  Bill Pickett, one of the West's greatest rodeo performers, transformed the dangerous event of bulldogging into a fine art.
Each of these characters is introduced by Sam, an old black cowboy who claims to have known them all.  Students will not only learn about the contributions of the black cowboys, but gain a deeper understanding of the Western experience from the cattle drives and the boom towns to the Wild West shows.
Length: 45 Minutes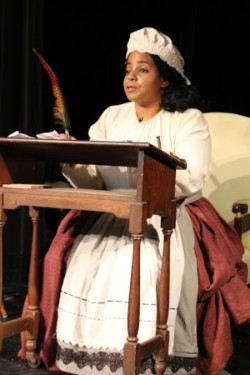 Phillis Wheatley: Black Poet of Boston (Grades 4 -12)
"I was born free and I died free.  In between, I was a slave." Captured as a child in her native Gambia, West Africa, Phillis is brought to America and sold to a well-to-do Boston tailor, John Wheatley. The Wheatleys treat Phillis with kindness and encourage her gift of writing poetry. Her stylized verse soon makes the young woman the sensation of Boston and a trip to England with her mistress' son spreads her fame abroad.
Length: 45 minutes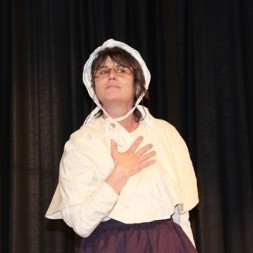 New England Women (Grades 6 -12)
Women in early New England greatly contributed to this new and sometimes hostile land. But their story has been largely unsung. This program introduces students to two strong and independent women who faced life – and death – with courage and conviction. Goody Bassett, better known as "The Stratford Witch," was a victim of the witch hysteria that swept colonial Massachusetts and Connecticut in the 1600's. Her trial took place half a century before the famous witch trials at Salem, Massachusetts. Hannah Freeman, a composite of several real Shaker women, joined this small but influential sect as a orphan girl and lived through the Civil War and the Industrial Revolution, two events that had a profound effect on the Shaker communities. She recalls these and other events as an older woman. Length: 45 minutes
Pricing
Single Performance: $875
Back to Back Performances: $1,560