Joel Melendez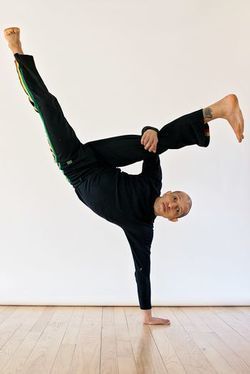 Joel Melendez is an engaging performer, and inspiring Capoeira instructor!
---
Programs
Brazil's Struggle for Freedom Through Strength
This exciting class teaches world history through the art of Capoeira. Capoeira is a unique Brazilian art form that combines martial arts, dance, music and acrobatics. Capoeira students learn the history behind Capoeira and the story of the people and places that brought it to life. Students will understand how events 400 years ago connected slavery to geography, civics and economics. Students will be challenged in new ways as they learn movements, play traditional instruments, and sing in Portuguese. They will understand that there are still relevant lessons to learn from Capoeira today. Accommodations can be made for students disabilities.
About the Artist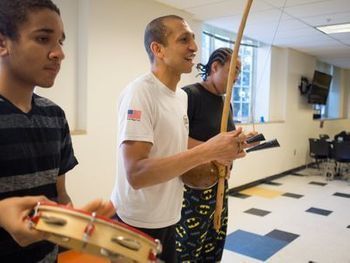 Joel Melendez, a Venezuelan born artist and co-founder of the touring duo Matica Arts, has traveled the Americas performing, collaborating and learning. He is known as a Capoeirista, musician, juggler and unicyclist. He is also co-founder of Thrive Movement Studio where he leads the Capoeira program (and at Plus 1 Defense) and organizes a yearly International Capoeira event. Joel is a unique teacher who creates a disciplined, structured and inspired place for learning and advancement by illustrating clear boundaries and expectations. He gains the devotion of his students by creating a fun, respectful and safe atmosphere through positive re-enforcement and encouragement. Joel created his program, Brazil's Struggle for Freedom Through Strength, to shine a light on the richness and power of the African diaspora and to illustrate to students the connection between Capoeira and the abolition of slavery in Brazil. Joel feels a deep connection to the roots of his Capoeira practice and his masters' lineage in Sao Paulo, Brazil. He appreciates that in Capoeira, every student, regardless of their level, has the weight and support of a venerable lineage of Capoeira teachers (living or deceased) behind them. Joel has collaborated with many organizations such as ASAP, Oddfellows Playhouse, GSAC and has worked and performed at many schools, festivals and municipal events. Joel is also on the Hartford Performs artist roster and has been a recipient of the REGI and Evelyn Preston Grants.