Karen Rossi
About the Artist
Karen Rossi's childhood in an agricultural Connecticut River Valley town was tranquil and sheltered. As a youth, Karen loved to paint and draw, and did so prolifically. Summers were especially quiet, and Karen's mom encouraged her three daughters to use their imaginations and keep active. She told them stories from her own childhood, and of studio visits to her sculptor neighbor, Alexander Calder.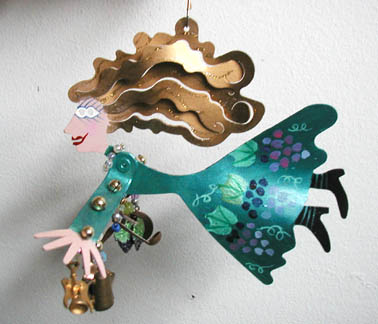 Make Your Own Fanciful Flight
Karen's character ornaments are so much fun to make, because they can be personalized with painted outfits, whatever hair color you'd like, and charms that are suited to you!
Together We Are…..
Collaborate with Karen on a mural about your town, school or region.  Karen will work with participants in the design process and can help participants construct the mural in a wide variety of materials.
Art Tape Painting
Participants will be given a canvas and art tape, they will use the tape to create clean, geometric patterns and designs.  Once they are done, they will use acrylic paint to paint the whole canvas in whatever colors or designs they wish.  After this, they will remove the art tape to create a unique, dynamic painting.
Tesselations
Learn about the life and work of MC Escher. Make tessellations. A unique approach to colorful patterning!
Sol Lewitt
Rates
1 Workshop $215
2 Workshops: $360
4 Workshops: $715
Additional materials fee added depending on project chosen.
Click here for Program Guide