Kulture Kids
*PROGRAMS AVAILABLE IN DIGITAL FORMAT*
---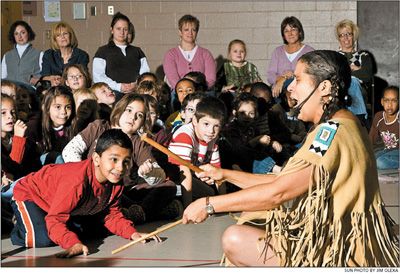 Robin Pease, a Native American storyteller of Mohawk descent, draws on her heritage to engage audiences of all ages in workshops & performances.
---
Programs
Pictographs
A descendent of the Mohawk nation, Robin Pease of Kulture Kids details the creation, use, and meanings of Native American pictographs. Students will discover how to create their own pictograph stories using a paper bag, a pencil, crayons, or markers to share with their class and/or with Kulture Kids live virtually or by email following the program. 
Pictographs use a simple illustration as a symbol for words. They can be considered an art form as well as one of the earliest forms of writing, used before 300 BCE. Pictographs have been found in Pre Columbian art, ancient Egypt, Native American art and ancient Mesopotamia to cite a few examples. In ancient times, the Iroquois had no written language. As a means to preserve history and convey ideas to other nations, pictographs were created. These pictographs were woven into wampum belts, written on trees and cut into stone to tell the stories of the people. Robin Pease, a Mohawk descendant, will introduce you to pictographs and guide you to create history and stories of your own using this ancient art writing style.
Artist Bio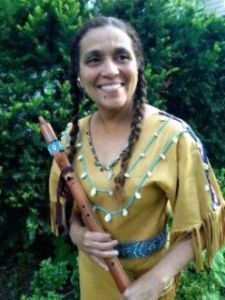 As the Founding Artistic Director of Kulture Kids in Cleveland Heights, OH, since 1999, Robin Pease has worked to create original, interactive arts programs and performances that inspire community, cultural awareness and lifelong learning. These participatory performances and workshops use various combinations of drama/theatre, dance, music, visual and literary art, to integrate the arts into teaching of core academic content standards and to help build cultural awareness for students and for people of all ages throughout the country.
In addition to her work in Ohio, Pease has toured nationally for several years to share performances  and workshops in Connecticut, Massachusetts, New York, New Jersey, Pennsylvania, Indiana, West Virginia, Virginia, and Florida. Pease holds a Master of Fine Arts from Case Western Reserve University and a Bachelor of Fine Arts from Berklee's Boston Conservatory. Previously, some other titles she's held are Director of Theater/Dance and Instructor at several schools and institutes of higher learning in Ohio, including Hiram College, Hawken School, Notre Dame College, and Lakeland Community College, as well the Artist-in-Residence for the New Jersey and Nebraska State Arts Councils and the Idaho Commission on the Arts and Humanities. As an AFLCT artist, Robin Pease and Kulture Kids bring the arts to you!