Ned Farrell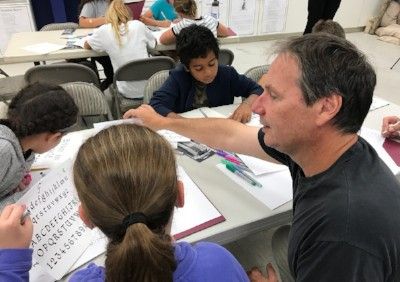 Calligraphy Then and Now (Grade 3 to Adult)
Calligraphy is the art of drawing letters to transform what you write into a work of art. Developed long ago and used for thousands of years, calligraphy now includes countless alphabet styles. Each unique individual, when they hold their pen and touch it to paper, automatically makes an alphabet their own.
In this super fun program, you'll get familiar with the instruments of calligraphy ~ the calligrapher's pen (felt-tip), the template sheet, and calligraphy paper. You will also learn the technique of one of the calligraphic alphabets. With a little practice to gain some skill, you will leave knowing the basics of calligraphy, and have a beautiful interpretation of your name by your own hand!
It's a great way to add flair to your cards, address the envelopes you mail, or leave special notes! Each student also takes home their own packet with calligraphy pen, template sheet, and sheets of calligraphy paper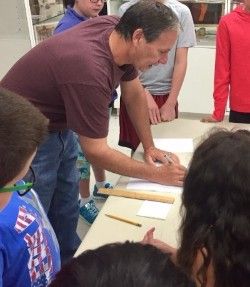 The Art of Lettering-The Lost Art of Cursive Writing (Grade 3-Adult)
Wouldn't it be great to write without lifting the pen off the paper? Or how about signing your own name? Well, that's what cursive writing is all about!  Cursive writing is a quick, flowing writing style where the letters in words are joined together with the pen or pencil never leaving the paper. It has been used throughout history in everything from historical documents to personal letters.
This fun program will teach children and anyone interested how to write in cursive script. Students will experience the history and fun of cursive writing while learning how to create beautiful penmanship. Students will learn the basic cursive strokes for the creation of a manuscript page, as well as how to write their own name in script. With a little practice to gain some skill, they will know the basics of cursive writing, and have a good foundation to continue their penmanship skills.
1 workshop: $250
2 workshops: $300
4 workshops: $500
Material Fee: $5 per student
Click here for Program Guide