Alicia Cobb
Art and expression has been a part of my life for as long as I can remember. I believe that everything we touch and experience is a form of art. Creating, for me is the ability to emulate life, nature, culture, humanity and love in ways it might not otherwise be seen. Fine art brings what we feel and see internally to light. It transcends the human experience and helps us to relate to life on a higher frequency.
---
Programs
MetArtmorphosis Life Skills and Art Workshop (K-12)
MetARTmorphosis is a youth art and life skills workshop that deals directly with life's constant changes through creative writing and visual arts. The life cycle of a butterfly is the inspiration behind the curriculum. Learning to adapt to change creatively and courageously is our mission.
Students will learn and practice:
Attention to detail by taking a deeper look at their subject matter through visual research
Creative writing through journaling in each session 
Connection and problem solving through research, storytelling & group discussions
Collaboration through team-work activities and assignments
Diversity through a group project that will celebrate individuality, unity and the necessity of differences.
Conceptual design through references and sketching
Critical thinking through planning and mapping their final projects working with multi-media
2 Hour Workshop with Supplies: $645
Simplicated Sip & Paint
Simplicated Sip & Paint is a social paint event facilitated by independent artist, Alicia Cobb. It's a fun time with great energy. Sip a beverage of your choice or have a snack while you paint a step by step masterpieces to bring home and hang on your walls or functional art to drink from. It's a great way to socialize and decompress.
Mom & Me
Ladies Couples Night
Wine Glass Painting
Team Building
Fundraisers for Non -profits (Different pricing, please request details)
PLEASE NOTE: We provide all painting supplies and instruction. No beverages are provided.
$285 Non-refundable booking fee, $64/ person
Body Painting Services & Workshops (18+)
Throughout history, body art has captured how humans relate their experiences to their physical body. Examples of body art come in many formats, including photographs, drawings, engravings, books, films, sculptures, and paintings. 
If you have an experience or milestone that you want to celebrate, do it with body painting! We're ready to bring your ideas to life. We'll help you to create a theme and guide you throughout the entire creative transformation. Your body is a beautiful canvas, let's create a masterpiece on it. Some of the ways people have utilized body painting services:
Prenatal body paint to commemorate pregnancy 
Healing body art sessions
College and/or cultural event
1 Hour Workshop: $285
Artist Talk: Finding Your Passion and Purpose
In this talk I take the time speak with students about the ability for each individual to discover their passion and purpose. Alicia will share her own story about her journey to purpose leading to her career as a professional artist. She will talk about some of her milestones as well as challenges she has faced along the way. Students will participate in a brief written exercise to help them gain clarity in their own journeys. There will be a Q & A so that students will have the opportunity to gain more insight on some of the information received during the talk as well as receive advice on their own pursuits.
Artist Talk 45-60 Minutes: $428
About the Artist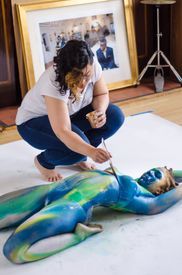 Alicia C. Cobb is a professional visual artist, fine body painter and arts educator currently residing and working in Bridgeport, CT.  Her biggest inspirations are transformation, the human body, emotion, nature and her children. Her works can be found on many surfaces; canvas, walls, clothing and people.
Specializing in body art, she can turn a human body into a painted work of art in just a few hours. Her body art has been featured in several published magazines (S.L.A.M.M, 2013; & Skin Markz, 2015). She was also among the highlighted artists in New York City Body Painting Day (2014, 2015), The Flesh Art Show (New Orleans, 2015). Alicia placed top ten in the 2016, North American Body Paint Championships in Greensboro, NC. which is the only sanctioned body art competition in the U.S. She was a 2017 "Bridgeport Girls Rock" honoree and she won the award for best artistic concept from the BNT Shark Tank "Do West" competition in September 2017. She has been a participating artist in public art exhibits throughout Fairfield county since 2015.
Alicia currently has a studio space in Bridgeport where she works on commissions, hosts social paint events as well as private lessons. She enjoys giving back and participates in community events and organizations frequently. She acts as a mentor to many young aspiring artists and is currently an art educator in extracurricular and summer enrichment programs throughout Connecticut.