Bolokada Conde- Visiting Artist *April 20- May 1 Availibility*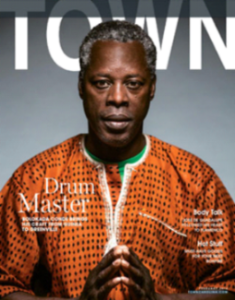 Bolokada Conde is a Grandmaster Djembefola and Folklorist from Guinea, West Africa.  After his government recruited him to the Guinea national ballet, Les Percussion de Guinee, they also honored him with the prestigious designation as the Folklorist for his country.  He is an award winning musician who is celebrated internationally for his musicality, performances, teachings and storytelling. 
---
Spring 2019 Residency at Cutler Arts & Humanities Magnet School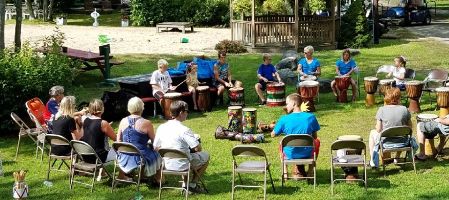 Programs
West African Drum & Culture Day (All Ages)
Bolokada Conde is one of the most celebrated master drummers in the world.  He is an engaging and energetic teacher and performer who spreads joy wherever he goes.  Sharing his traditional music and culture with the use of authentic drums from Africa he captivates people of all ages and he will put a smile on every face in the room!
About the Artist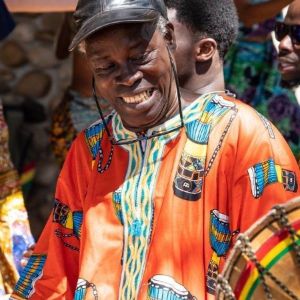 Born in Morowaya, Guinea, Bolokada is a Master Drummer in the Mande tradition, specializing in the djembe drum.  According to family legend, his mother knew when he was only two years old that he would be a drummer—she could tell from the way he pounded her shoulders when she carried him slung on her back.  As a teenager, Bolokada became known as a young musical prodigy in the Sankaran region of Guinea, West Africa. His talent quickly led him to become the premier djembe player in all the region's major village celebrations for many years.
In 1996 Bolokada became lead soloist of Les Percussions de Guinée, Guinea's premiere percussion ensemble. With the ensemble, he toured in the United States and Europe, gaining an international reputation as a djembe player. He has received numerous awards and accolades for his music: in addition to the mayor of Kissidougou's gesture, the mayor of San Francisco declared February 25, 2003, Les Percussions de Guinée Day in Bolokada's honor; and in 2006, he was officially recognized by Guinea's Minister of Culture. He has performed with Elvin Jones, Joan Baez, and Mickey Hart.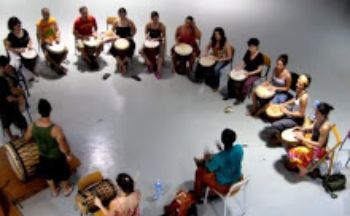 Since 2004, he has been performing and teaching in the United States. He's conducted percussion workshops all over the U.S. and Europe. And he's traveled the world, France, Italy, South Korea, Canada, Mexico and more. All along the way, he's started drumming and dance troupes that can carry on the traditions of his land, including in Oakland, California, Champaign, Illinois, Nashville, Boston and most recently Asheville and Greenville.
In 2007, Bolokada was awarded immigrant status as an alien with extraordinary ability in the arts. The only thing that belies the 58-year-old's age is the journey he's taken. His youthful complexion and trim physique appear decades younger.  In August 2008, for two years, he worked as a full-time visiting artist at the Robert E. Brown Center for World Music, where he gives drumming classes at the University, for the community, and in the public schools (as part of the Center's "World Music and Dance in the Schools" program).  He has published two CDs (Sankaran and Morowaya), an instructional DVD (M'bara), and a DVD of in-context performances in Guinea (M'bemba Fakoli; all of these are published on the Abaraka label). He is featured in the IMAX movie Pulse: a STOMP Odyssey and is the subject of an upcoming documentary, Bolokada Conde, Malinke Village Djembefola.
Since moving to Greenville, SC, he has worked with Anderson University and North Greenville University students, and performed on both campuses. He has conducts numerous workshops and lends his master drumming expertise to drum and African dance enthusiasts from around the region.
Single Performance:                   $715
Back-to-Back Performances:     $1,140
1 Workshop/Half Day                  $715
2 Workshops/ Full Day                $1,140
4 Days+ Residency                      Call or email for details, lbrown@aflct.org