Faustin Adeniran
*PROGRAMS AVAILABLE IN DIGITAL FORMAT*
---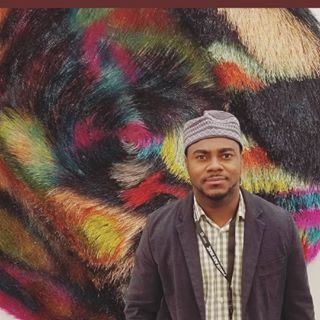 Art is what I love and have always loved throughout my life. I believe that it is my purpose to inspire through my works, and I am excited to share this with you. My artwork is made from aluminum cans and other found materials to create three-dimensional works that defy categorization. Embedded in my works are references to the American culture in comparison to the  broader Nigerian culture, racial and tribal conflict, and the complicated history of African colonialism. I use my work to teach, to enlightened and to uplift all.
---
Programs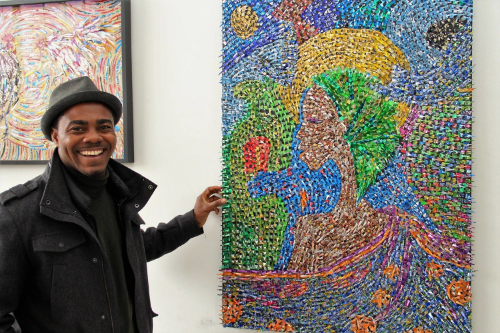 Recycled Reflections: Collage Art Made For & From the Community 
In this workshop we will discuss the values that are important to each student's community and what makes their communities unique. From there, we will create works that reflect that discussion. Students will be asked to bring in materials from home. They can be recycled materials like old newspapers, cardboard, cards, plastic bags, etc and they will also bring in small but meaningful materials (photos, quotes, other small trinkets) that can either be used to inspire a work or be incorporated into one. I am also happy to bring in materials, but the goal is for the students to have something that is meaningful to them and reflective of their community. The students will learn how to apply the principles I use in my artworks which include brainstorming on general creativity, exploring abstract art, proportionality, and collaging to create their own unique work of art. (Age range varies, dialogue about community and art techniques can be tailored to meet any age group, time allocation flexible for workshop and group share-outs) 
Artist Talk: Neocolonialism & Modern African Art  
In this conversation, I discuss the impact of neocolonialism on countries like Nigeria through my artworks from my latest series, Transformation. Embedded in these works are references to Yoruba culture, broader Nigerian culture, the history of racial and tribal conflict, African colonialism, and the cycle of poverty & foreign aid development in Africa. Artworks in my '​No. Series'  are semi-abstracts of individual faces made out of oil barrel lids, highlighting the oil industry in Nigeria and the notion of productivity over personhood that was at the crux of colonization efforts across the globe. Works like '​Le mouchoir du bourgeois (The Handkerchief of the Wealthy)' and '​Redlined' comment on broader French and British influence in politics and economy in Africa while  '​I am more civilized than my broad next door' and '​Transcendent Assimilation' note the lingering effects of European influence on an individual-level where the European way of being--British accents, fashion, education--is valued over native African culture.   This talk accompanied by my artworks brings awareness to the history of development in Africa and draws on political and social similarities here in the US. I hope to use this presentation to open up dialogue about Africa and to bring forth an understanding our impact as leaders whether that is in our  schools, communities, countries or abroad. 
For audiences 6th grade and above, time allocation flexible for presentation and Q&A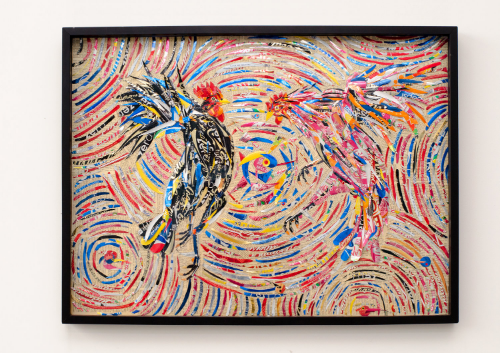 Artist Talk: The Life of an Artist: Faustin Adeniran 
This talk is a great opportunity for students to get a better understanding of the life of an artist. Faustin will share the story of his journey from Nigeria to the US to launch his career as a professional artist. He will detail the successes and challenges of his career from commissioning work for PepsiCo's former CEO Indra Nooyi to staying motivated. He will offer advice to students seeking a creative career. The format includes a talk and then open Q&A dialogue with the students. (Age range varies, dialogue about career journey can be tailored to meet any age group, time allocation flexible for workshop and group share-outs). 
Single Workshop (60 Minutes):  $355
Double Workshop, or Back-to-Back Workshops: $500
About the Artist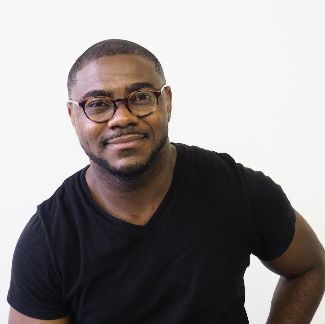 From the age of 11, when he bought his first piece of cardboard in Nigeria, Faustin has always created art out of whatever material he could get his hands on. Fascinated by European and African history as a child, he would make drawings of what he learned from history books--images of leaders like Napoleon on a horse, traditional Yoruba dancers to even graphic historical scenes like slaves in chains. As his love for art grew, he later tried to draw replicas of famous Nigerian artists like Yusuf Grillo and Abayomi Barber among others. 
 
As a quiet observer, Faustin carried a unique perspective and curiosity about each place he inhabited and he channeled his observations into his art. While studying European Languages in Nigeria at the University of Lagos, he developed sand art that created landscape images from layers of different colored sand symbolizing the importance of sand in Nigerian religious culture. While studying abroad in France, he made a series of copper and LED lights to reflect the French Revolution. In the past five years in the US, he has worked on a series made from cans to reflect the flamboyance of American culture.  
 
Now he has shifted gears to re-imagine materials that go beyond reflecting the American community he lives in, but going back to Nigerian culture through his latest works, Transformation Series. All of his travels and life experiences have brought him to this moment where his works do more than reflect and compare the American and Nigerian culture, but remind us of the painful memories of the past and inspire hope for what the future could hold, a true sense of self in Nigeria.  
 
Faustin has worked ceaselessly to realize this gift and love for art. In the past 4 years, his work has been commissioned for PepsiCo's former CEO Indra Nooyi, auctioned at the Wadsworth Museum, and shown at the Empire State Building. He looks forward to sharing his work with you!