Oompapossum Puppets
*PROGRAMS AVAILABLE IN DIGITAL FORMAT*
---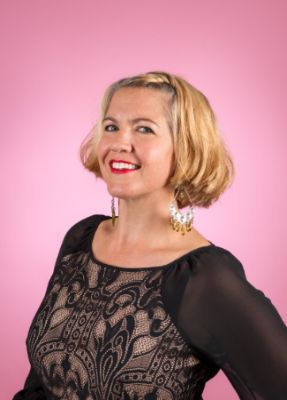 Experienced puppeteer and occupational therapist Kimberly Van Aelst has been dazzling audiences with her handmade puppets all over Connecticut! Not only is Kim a fantastic performer, but she can bring puppet-making to your own classroom, and work with educators to align the art making to academic or social emotional goals. Kim also has experience with stage makeup and stage design. Kim can truly do it all, call today to book your performance, residency or workshop!
---
Programs
*New Performance!*
The Three Little Pigs is a shadow puppet show with colorful, hand painted and carved puppets, songs and whimsical visual projections based on this classic fairy tale favorite.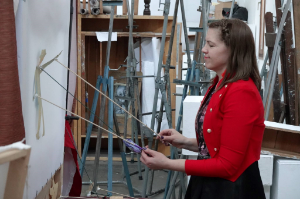 Performances
Puppet shows are approximately 20-30 minutes in length and include an additional pre show introduction to puppetry and post show question and answer session. Shows can be performed for a smaller group of up to 15 or a larger audience of up to 50.
How the Moon was Made is based on the award winning book, Anasi the Spider: A Tale from the Ashanti. This show is primarily for children from pre-K to 2nd grade. Children will learn about how each person is special and different and that by working together as a team, the possibilities are endless. 
Creatures of New England is an informative science based show for curious youngsters. Children will learn all about the amazing animals that grace our forests and backyards. Students will discover that some animals aren't as scary as they seem and are actually helpful to our ecosystem. 
Caps is an adaptation from the classic book, Caps for Sale. This traditional tale invites young audiences to hear the tale of a hat peddler who runs into a group of meddling monkeys that take his hats. What will he do? How will he get his hats back? This humorous show encourages children to develop problem solving skills and positive expression of feelings.
Mr. Tiger is an adaptation from the cherished book, Mr. Tiger Goes Wild. In this puppet show, a curious tiger begins to question everything he has known. He gives up his city life to move to the jungle to find his true calling, but misses his family and friends. Aside from being a jolly tale, this show emphasizes the basic needs we share: a feeling of belonging and the need to feel loved and accepted as we are.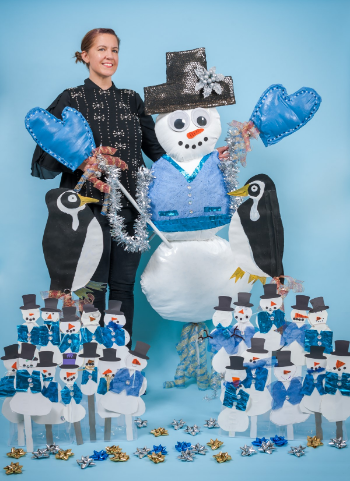 Workshops
Workshops are approximately 1 hour in length and are ideal for up to 30 students maximum.  In each workshop, students will have the opportunity to learn about a specific type of puppetry, have the chance to make a puppet in the style of the lesson and perform with their completed puppet in the workshop.
Current Workshop Themes Include
-Introduction to shadow puppetry: students will learn about this traditional art form and have the chance to create their very own shadow puppetry. At the end of the session, students will instructed in shadow puppetry movement and light source considerations from behind a shadow puppet screen.
-Introduction to stick and rod puppets: students will first be instructed in a brief history of this art form prior to construction of their puppets. Once their puppets have been created, they will learn how to move their puppet to enhance realistic movements of the puppet.
-Mask making for theater: students will have the opportunity to learn about the ancient tradition of using a mask in stage performance. Students will then construct their own take home mask and develop a character for their mask.
 
Puppet Shows
• 45 min show for up to 50 students (includes brief lesson in how to make a
puppet and Q&A session)     $500
• 30 min show for 50 students (includes intro and Q&A session):     $390
• 30 min show for audience of 15 or less (includes brief lesson and Q&A):     $355
• Double show discount: additional shows that day for $200 each if more than one classroom
 
Puppet Making Workshops
Shadow making puppet workshop, 60 minutes for up to 30 students:     $170
Mask making workshop, 60 minutes for up to 30 students:     $170
Moving mouth puppet workshop, 60 min for up to 30 students:    $170
About the Artist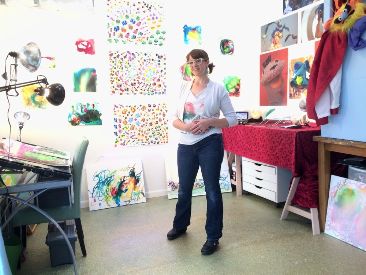 Kim Van Aelst is a puppeteer from Connecticut hailed for her children's puppet shows in which she has performed in schools, museums and at festivals throughout the state. Each program seeks to captivate young and adult audiences through the art of puppetry by creating unique puppets and performance pieces that intrigue, set an atmosphere of awe and inspire.
Kim has performed her original and quirky scripts at La MaMa in New York City, The Museum of Photographic Arts in San Diego, Puppet Showplace Theatre in Boston, with the Bindlestiff Family Circus at the Galapagos in Dumbo, at Dixon Place and Tank in NYC, at the New Britain Museum of American Art and throughout venues in New England.
Her puppet film, Lost & Found was featured at the International Festival of Puppetry in Prague. In addition to performing, her paintings and sculptures have been exhibited at the Soap Box Gallery in Brooklyn, the Melanie Carr Gallery in Essex, John Slade Ely House, Pegasus Gallery, ArtSpace, and the Hygienic Gallery among others. Kim is the recipient of the Connecticut Coalition on the Arts Award and the Emma Louise Warfield Grant in Puppetry. She received her Masters in Dramatic Arts in Puppetry from the University of Connecticut in 2018. In addition to her training from the Uconn Puppetry Program, she has a background in clowning through the Carol Siguro training program and acting at the Actor's Studio in New York City.
Additionally, Kim is an Occupational Therapist with years of experience working with children and adults with special needs. Puppet shows and workshops can be adapted  to fit the needs of children with disabilities.