Playful Engineers
This program will bring a "Makerspace" right to your school, library or community center to engage your "Playful Engineers!
About the Artist
Jay Mankita has worked with kids and families for over 30 years. His engineering workshops are experiential and inspiring. Jay has a strong passion for engineering and making things move, and teaches how he learns - with patience, humor, and lots of room for mistakes! When he's not engineering, Jay is also an award winning and masterful (Parents' Choice Award winning) songwriter, guitarist, humorist, and performing artist - a seasoned veteran of both the children's and the adult-americana circuit. He's a dad, a teaching artist, and a lifelong learner, and tries to live by the same principles he shares in his Rube Goldberg Machine workshops...define your goal; keep each part simple; obey the laws of physics; have fun!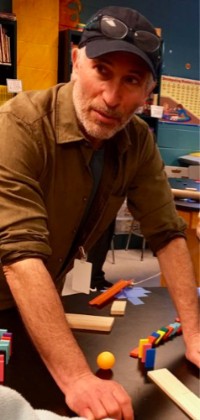 Traveling MakerSpace: Chain Reactions and Contraptions Workshops (Gr. K-8)
25 Students per workshop, Family Workshops Available
In these hands-on, STEM focused workshops, participants design, build, test, and improve their Rube Goldberg "machines", plus domino constructions, exploding popsicle-stick snakes, and other awesome engineering explorations. Sessions are tailored for all ages, abilities, and locations, and are equally great for focused workshops within a grade, or for the organized chaos of a family science night!
"I just wanted to thank you for all that you did with our students at Mapleshade School. The kids had such a terrific experience working with you, and the culminating event was also a huge success. It was so nice to meet you, and just keep up the great work, Jay!" DAVID AXELRAD, GIFTED/TALENTED ENRICHMENT TEACHER, MAPLESHADE ELEMENTARY, EAST LONGMEADOW, MA
"Hi Jay, my third grade students and I are so thankful for the incredible STEM experience you gave to us! I have so many awesome videos from their time building - they love watching them to see where they made mistakes, how they fixed them, modified and improved. Thank you!"  ALICIA CAREY, 3RD GRADE TEACHER, PERRY K-8, BOSTON
Pricing
Full Day-Presentation & Workshops: $1400 includes supplies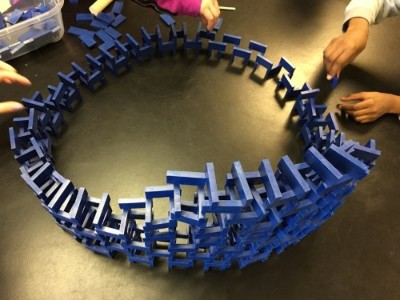 ---