Robin Pease
*PROGRAMS AVAILABLE IN DIGITAL FORMAT*
---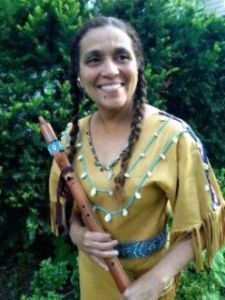 Robin Pease, a Native American Storyteller, who is of Mohawk descent, draws on her heritage as she takes you on a journey with Touch the Earth and/or Pushing Up the Sky. The program features audience participation in the form of songs, language, dance, and games.
---
Programs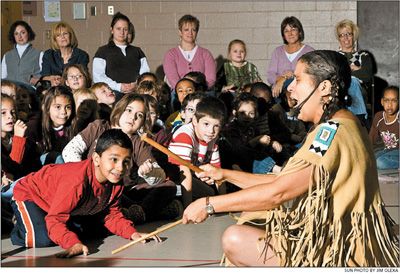 Sacajawea Grades 3-12
Meet Sacajawea, a Shoshone Indian who traveled with Lewis and Clark  and her baby, Pomp, as you share in song, her story and the story of why  we sing to plants.
Program Length: 45 minutes
The Great Law of Peace Grades 3-12
The Great law of Peace takes the audience on a 700 year journey from the Native American Iroquois Nation to Ponce de Leon, Jacques Cartier, Walter Raleigh, Thomas Jefferson, Ben Franklin and John Rutledge to reveal the basis of our constitution. It is a great tie with Core  Curriculum. Teachers in Ohio have said. "This taught my whole curriculum in 45 minutes."
Recuerdo Ser Simpatico (Remember to be Nice) Grades 3-12
Do your students forget to be nice to each other? Robin Pease tells the story of a mean turtle who learns the value of friendship and remembers to be nice. During the program, students participate in  Spanish language, song, and learn about animals and places in Costa Rica.
Length: 45 Minutes
Pushing Up The Sky (PK-5, Families)
The birds, animals and Native people boast, brag and call each other names. Can they learn to work together to solve a problem of a sky that is too low to the ground? Join in the telling of this Native American legend by becoming these creatures, singing and speaking the Mohawk language.
Touch the Earth (Grades 3-6, Families)
A man who tends Mother Earth is bullied by those who take her gifts for granted. When the Spirit of the Corn takes away Earth's most important gift, will the people learn to give thanks or continue to bully the one man who stands up?
Single Performance: $655
Back to Back Performances: $1020
3 Performances: $1320
4 Performances: $1,560