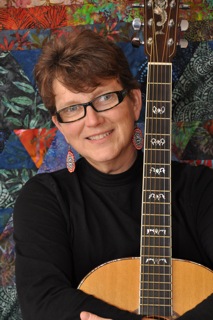 Sally Rogers
Sally Rogers is a nationally renowned singer-songwriter and recording artist with numerous awards for her work. Her engaging workshops and residencies utilize music and visual art are carefully crafted  with educators to impact learning in a broad array of curriculum topics that impact the common core in language arts, science and math.
The Tale of Tenopolis (Grades 3-5)
Storytelling and math are united in this residency which helps students understand place value. Rogers shares a story about a census taker who visits the town of Tenopolis, only to discover that folks there have an unusual way of designing their community. They live in single homes and apartment blocks of ten and 100. Students then create their own towns using base-10 centimeter blocks, while a second "census taker" must count the inhabitants based on the design of the buildings in the town.
CT Standards:
Grade 3: Use place value understanding and properties of operations to perform multi-digit arithmetic.
Grade 4: Generalize place value understanding for multi-digit whole numbers.
Grade 5: Understand the place value system
Every Rock Has a Story to Tell (Grades 3-6)
This residency can include songwriting or storytelling, depending on the needs of the teacher. This residency integrates units on Rocks and Minerals, Narrative Writing, and songwriting. Students find a rock that interests them. They create a first person narrative from the rock's point of view, telling the story of the rock as it traveled through the rock cycle. Students can share their stories aurally (for example, pretending they are on display in a museum), or in written form.
An extension would be to write songs as a class about various aspects of the unit of study.
Examples include: glaciation, erosion, the rock cycle, types of rocks, vulcanism, plate tectonics, etc.
CT Standards:
3.3a. Rocks and minerals have properties that may be identified through observation and testing; these properties determine how earth materials are used.
Oral History and Primary Historical Resources (Grades 3-8)
Using primary historical materials and/or oral histories, students write songs about the past, present and future of their communities. These songs are written by the class and usually performed by all the students involved in the residency. Melodies are chosen from existing songs in the public domain, or composed by Rogers.
Quilting a Math Problem (K-8)
Students design and create paper or cloth quilts to demonstrate mathematical concepts: addition, subtraction, multiplication, matrices, geometric figures, measurement, etc. If cloth quilts are made, students are instructed in hand-sewing techniques: threading a needle, knotting a thread, running stitch and back stitch. This residency can be done at all grade levels.
CT Standards:
Meets multiple standards at many grade levels.
Quilt workshops can also be linked to almost any other part of the curriculum, including Social Studies, Language Arts, Math and Science.
What Can One Little Person Do: Unsung Heroes and Heroines (Grades 3-6)
Students identify heroes in their own community and write verses to Rogers' song, "What Can One Little Person Do?". This is a one-hour per classroom workshop.
(go to http://www.archive.org/details/WhatCanOneLittlePersonDo for a listen)
Moving Words (Grades K-8)
Using existing poems or after writing poems as part of the workshop, students will explore the many ways to use the body to interpret the poem. This workshop can be integrated into any area of the curriculum, as poems can be written about anything the students happen to be studying at the time.
Single Performance: $715
Back to Back Performances: $1,070
Call for Workshop Pricing