Sanna Stanley
*PROGRAMS AVAILABLE IN DIGITAL FORMAT*
---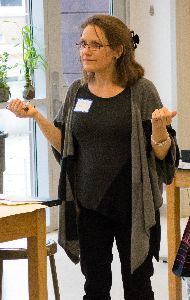 Students are shocked with just how rough Sanna's first thumbnail scribbles are (they can do that, too!). They are amazed by Sanna's storytelling and her attention to detail as she discusses the questions writers ask themselves about their work, such as why to change (revise) something. She challenges students to connect what they are learning about writing (all the little bits) to the storyboarding she does (and how they fit).
---
Programs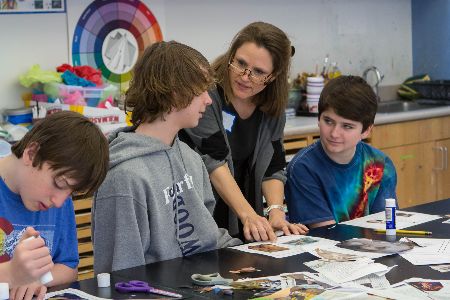 Turtle Time: Storytelling for Citizen Science
Students are drawn in by the storyteller's "long long ago," and become attached to ancient sea creatures and their hatchlings who look to the moon and stars to find their way home. When the story turns to "now" turtle hatchlings confused by artificial light go in the wrong direction. Students understand that human lighting technologies can have unintended consequences, called light pollution. This story's happy ending invites students to be problem-solvers by becoming citizen scientists: exploring, observing, and creating design solutions that use our lighting technologies in ways that meet the needs of both humans and other life on earth. 
Visual Thinking, Storyboarding, and Bookmaking
Students collaborate with Sanna to create an improvisational storyline while Sanna sketches their offerings into a storyboard. As she asks for — and makes — changes in real time, she uses images to model the way a writer makes choices about story elements such as characters, setting, problem and resolution from the beginning through the middle and to the end. Students are eager to use Sanna's StoryArt process to create their own storyline. Depending on the number of visits, the product is a first writing draft or finished off by being folded into a book! 
All of Sanna's programs connect to academic and arts standards, and she will work the educators for specified goal alignment.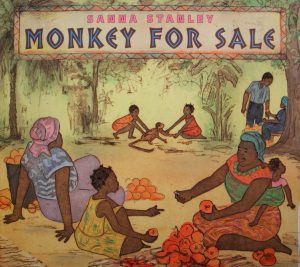 Found Poetry, Personal Meaning in Altered Books 
This engaging program guides students in a transformative process where they turn a random page torn from a book into a piece of art with new and personal meaning. From the available vocabulary on their pages, students are challenge to find, select, choose, and then match, pair, extrapolate, connect and create meaning. To clarify and extend their meaning, students will use design elements such as movement, contrast, color, and line, to guide the viewer's eye through the image. This workshop is a surprising and delightful way for student choice to become student voice. This program can also be a multiple day residency. 
About the Artist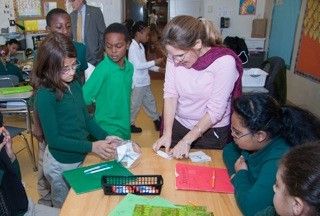 Sanna Stanley grew up in the Congo barefoot under her personal constellation, the Southern Cross. When her family moved to the States she earned an M.A. in Painting and an M.F.A in visual art, and published several award winning books. She works as a CT Master Teaching Artist who specializes in integrating her art forms into classroom curriculum in workshops and residencies. Sanna has led numerous professional development workshops, and is a public speaker and workshop leader on numerous topics. Her artwork and photography has been exhibited locally and internationally and her novel writing won CT's own Tassy Walden New Voices in Children's Literature. Sanna frequently uses art and writing to bring communities together such as painting a street banner with Madison children for Dark Sky Week 2020. She is also Writer-in-Residence at Yale New Haven Children's Hospital where she writes poetry with patients. Her own artistic work is currently focused on environmental advocacy including protecting the night sky so all children, everywhere, can find their own constellations.