Sheryl Faye
*PROGRAMS AVAILABLE IN DIGITAL FORMAT*
---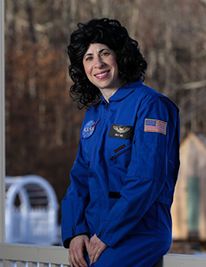 From the moment I could walk, I knew I wanted to be an Actress.  I turned my back porch into a theater and the bathroom into the Box Office.  The audience consisted of my Dolls and my Mother.  I starred, wrote, and directed all of the shows.
---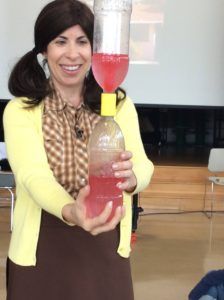 Sally Ride – America's First Woman Astronaut *STEAM*
Sally Ride is glued to the classroom television as astronaut John Glenn blasts off into space. "I want to do that," she quietly says to herself, only to be reminded that girls can't be astronauts. They can't be shortstop for the LA Dodgers either, another early aspiration, and she soon sets her sights on tennis, learning teamwork and good sportsmanship.
Her insatiable curiosity leads to a passion for science, and children will join in Sally's discoveries through fun, interactive experiments, all of which they can do again at home. As she matures, she studies the wonders of the universe and finally, when girls can, she becomes America's first woman astronaut and a passionate advocate for STEM. Her compelling story will ignite students' curiosity and inspire them to dream, dare and develop their own gifts and talents to the fullest.
About the Artist
Sheryl started taking acting lessons when she was seven years old at the Harwich Jr. Theater on Cape Cod, where Sheryl grew up.  Sheryl was in her first show, Cinderella, when she was nine years old.  Sheryl loved the lights, the smell of new paint on the set, and the wonderful feeling from being onstage.  Of course, she LOVED signing autographs!  She knew that this was where her heart was and her Mother always encouraged her to pursue my dreams.
Sheryl attended Emerson College, in Boston, where she received a BFA in Acting.  Since then she have traveled across the United States to work.
Today, Sheryl is a full time Actress!  A goal she has worked very hard to achieve.  She currently stars in eight one-woman shows that tour to different schools for enrichment programs, libraries, and senior centers throughout New England.  Sheryl also writes and performs with StageCoach Improv.  She has been the voice of several characters for Sony Play Station games and for a variety of medical CD ROMS. Sheryl just showed a national print ad for Vicks cold/flu. She keeps busy working on films, television and theater throughout Boston and New York.