Sova Dance & Puppet Theater
*PROGRAMS AVAILABLE IN DIGITAL FORMAT*
---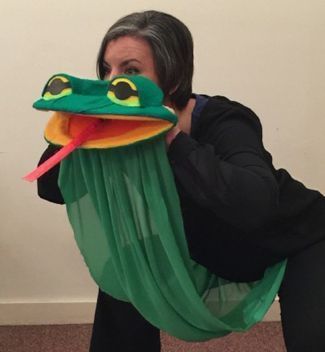 Sova Dance and Puppet Theater celebrates humanity and the environment by engaging global audiences with workshops and visually poetic performances!
---
Programs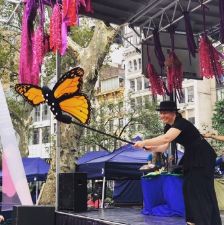 Engaging Children with Puppetry during Challenging Times: Workshop for Educators, Parents, Therapists & Teaching Artists
3 Hour Professional Development
We invite teachers, parents, therapists and teaching artists to learn the skills of puppetry, because we have a tremendous task at hand during this time of remote learning. Visuals like the art of puppetry offers a way to lighten the mode, increase literacy skills, attention, focus and skill building while making the learning process fun! Participants will learn how to effectively use this art form to depict characters, model role-playing, work on conflict resolution and discuss difficult topics. Puppets act like peers for children, so they open up a warm, inviting and playful learning environment for children. This approach transforms teaching!
Marvelous Metamorphoses (Grades 1-5)
Adelka Polak's performance "Marvelous Metamorphoses" accompanied by music engages audience with the use of dance, puppetry and mask work to vividly portray characters and concepts told through movement, sound and imagery in the story, making them memorable.\ The puppets are made by both the main performer Adelka Polak along with award-winning fine artist & sculptor Justin Perlman. The original music is provided by Q Music/Cynthia Quintanal. We journey through the life cycles of frogs, butterflies and bees utilizing the art of puppetry and music. We are all connected. We are of nature, and we have an effect on the world.
Frogs Make Me Hoppy  (Grades PK-4)
"Frogs Make Me Hoppy" 3-week puppetry course 45 minutes per session allows students to learn about frogs, their songs, habits for survival, how to make their very own puppet, and then finally put it to action by learning puppetry techniques for movement!
Marvelous Transformations with Butterfly Puppets! (Grades PK-4)
The students pretend to be flowers with open hands welcoming the butterfly to different points on the migratory path as acted out in a large open space followed immediately by learning how to make their own caterpillar & butterfly puppets in the classroom. The residency culminates in a dance & puppetry technique workshop where they get to recreate the multi-generational migration of the monarchs with self-designed movements & choreography that they create in groups. Students will present this drama and the teacher can document it to share and playback for the students to see later in the classroom for reflection.
Mask Theater Residency/Workshop
In this Mask Theater artist residency each student will get to create their very own theatrical mask, moving it from the art studio to the stage in course of this program, learning how to create character nonverbally thorough the power of gesture and body language. They can learn some simple techniques for creating a mask from everyday materials, so they can do this from their own home. Then after the 3-day mask making process we move to rehearsal where individual characters are brought to life through stage movement techniques that require no words, creating characters individually and shared presentationally.
About the Artist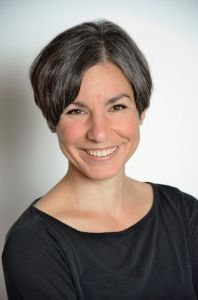 Adelka Polak, founder of Sova Dance & Puppet Theater, based in CT & mainly serving schools, arts venues and community organizations in New England and NYC, including recent performances at Madison Square Park and Jamaica Bay Wildlife Refuge. Adelka is a dancer, puppeteer, mask-performer and movement director whose work has brought her to Denmark, Bulgaria, the Czech Republic, and Turkey.
In an original theatrical production of "Ajijaak on Turtle Island" at the New Victory Theater she worked with puppets from the Henson Creature Shop in a show led by artists Heather Henson, Jim Henson's youngest daughter, and Grammy-Award winner Ty Defoe. She also worked with Squonk Opera who went "from junkyards to Broadway" and performed at Lincoln Center Outdoors and LaMama, E.T.C. with the Czechoslovak-American Marionette Theater of NYC. Ms. Polak was featured on CPTV's "Spotlight on the Arts" with Masque Theatre & Larry Hunt in a segment nominated for a cultural Emmy in 2010 and produced by Ed Wierzbiecki.
Adelka currently works with the Jim Henson Foundation teaching puppetry skills to educators, counselors and therapists through a contract with the Kennedy Center VSA program