Tom Lee
*DIGITAL LEARNING PROGRAM*
Museums of the World
In these extraordinary times, as we turn to web-based learning, museum websites are a tremendous resource for teachers and parents. But finding ways to use them effectively to support your curriculum can be a challenge. Tom Lee is a museum educator with extensive experience and a tremendous knowledge of art resources from world museums. Tom will work with teachers to create a customized "tour" of world museum websites to investigate images than can support and enrich at-home and online learning.  The program includes a live-streamed, interactive discussion and web-based resources created specifically for your school/grade level/or classroom. The possibilities are endless, with strong links to Social Studied and Language Arts Curricula. Topics include: American History, Ancient Civilizations, Legends of the Middle Ages, The Life and Work of Charles Darwin, Chinese Poetry and Art, Classic Fairy Tale Illustrations, and The Origins of Hip-Hop.
For details about Tom's Digital Programming, please email us here!
---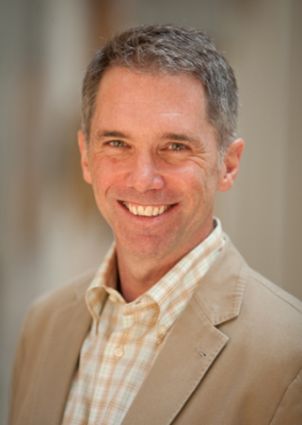 Tom Lee tells traditional stories from around the world; stories that reflect their cultures of origin and convey universal themes; whimsical tales, breathtaking adventures and thought-provoking dramas drawn from his extensive travels and research. His work naturally incorporates  the Common Core State Standards that all students should be familiar with; the genre of the folktale, to understand the elements of a story, and be able to discuss the main idea, theme, or moral of the story. Using paintings found in local CT Museums, Tom inspires his students to use visual thinking strategies to tell and write stories with rich detail.
---
Programs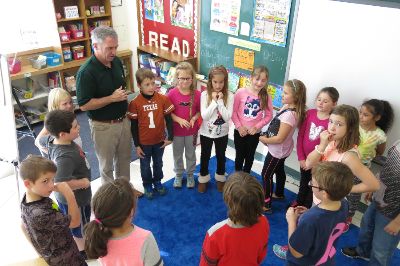 Folktales From Around the World, K-8  
Tom Lee performs stories that demonstrate the culture and thematic concepts present in the societies from which they originate. Not only do they contain cultural and historical contexts, these stories also contain morals relevant to today's society.  These vary from the whimsical, to the breathtakingly adventurous, and to thought-provoking dramas. All materials are drawn from Tom's own extensive research and travels. He keeps his tales grade-appropriate, and guarantees that they will be deeply engaging.
Think It, See it, Write it!   Grades 2-5
The power of good storytelling is the ability to create vivid pictures in the listener's mind. Tom Lee leads inspiring cross-curricular workshops on visualization and writing using descriptive detail. 
Pricing:
2 back to back performances  (max 150 students per)  $770
Full day (5 sessions)  $870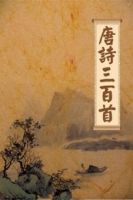 Writing in the Style of the Scholars - Discover Chinese Poetry
What is Tang Poetry-a new experience for your students that they can easily master with Teaching Artist Tom Lee. With close reading and thoughtful writing students will  create poems expressing their own observations of nature and their sense of connection with the natural world.

The Tang Dynasty (618-907) is often called China's "Golden Age," when art and literature flourished as never before, and poetry blossomed into new splendor.
Storyteller Tom Lee brings the poetic traditions of the Tang Dynasty to life in classroom workshops for students in Grades 3-12. Students are introduced to "jue jue" poetry, the classical four-line form which the great poet-scholars of China used to reflect on the world. Using authentic Tang Poems as mentor texts, students engage in close reading and thoughtful writing to create poems expressing their own observations of nature and their sense of connection with the natural world.
The residency's design is richly cross-curricular, developing skills in Language Arts, Writing, Visual Literacy, and Social History. Over four classroom sessions, students will read and discuss Tang poems, view Chinese calligraphy and nature paintings, and use critical thinking to write reflectively. Each student will write and revise poetry in the "jue jue" style, using robust vocabulary and colorful, descriptive language. The residency also includes a staff development session. Teachers will explore the historical and cultural background of Tang Dynasty Poetry, and strategies for the residency.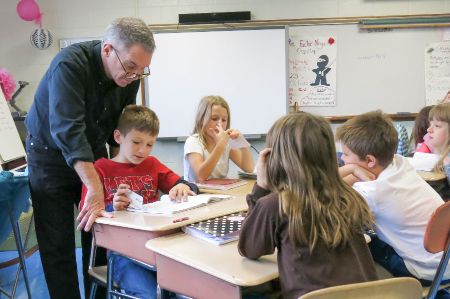 Mentor Texts: The Language & Landscape Residency
Note: The selection of mentor texts used varies according to age level, but the methodology is designed to engage and inspire learners of all ages, grades 3-12.
The classic anthology of Tang Dynasty poetry is the collection "300 Tang Poems." The poetry in this collection in still widely known in China today, and many of the poems are taught to Chinese children of elementary school age.
The Language and Landscape residency uses a selection of four line, "jue-jue"poems. These poems contain only twenty characters, in four lines of five characters each. During the residency, students will read and hear a number of poems, exploring the original Chinese characters, as well as literary translations.
Because the nature of Tang poetry is at once quite concrete and profoundly abstract, students at all levels of proficiency are able to enjoy reading and writing in the Tang style. In the language of the CCSS, Tom Lee will "match the reader to the text and the task."
MULTIPLE DAYS
(May be a residency at a single school or at several schools on adjacent days)
One day………………………..…… $1,175
Two days…………………………… $2,185
Three days…………………………. $3,050
Four days………………………….. $3,765
Five days………………………….. $4,345

ADDITIONAL RESIDENCY DAYS
Per day ……………………………. $600
About the Artist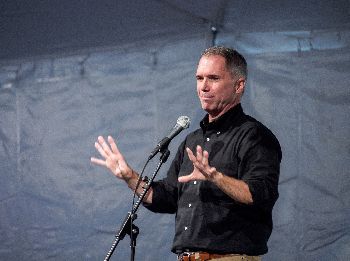 Tom Lee has been a professional storyteller for twenty years and has performed for thousands of students in hundreds of classrooms. Tom is a fellow with the Connecticut Writing Project, based at the University of Connecticut and a frequent guest artist with The Metropolitan Museum of Art , the Yale Center for British Art and the University of Pennsylvania Museum. In addition to his educational programs, Tom performs publicly in theaters and in festivals throughout New England. His programs have been featured on National Public Radio and on BBC-TV.