Turtle Dance Music
About the Artist
Described as, "The most fantastic performance for children I have ever seen", Turtle Dance Music is a children's music company dedicated to furthering child development through arts-integration, music, and educational entertainment. We spark children's curiosity and imaginations through interactive, inclusive musical performances that use a wide range of instruments, stuffed animals, games and music technology. Our 45-60 minute long sensory-friendly performances are geared for Pre-K, grades K-5 and students on the Autism Spectrum. Our performances are also accessible to teachers and administrators who want to have a great time with their kids and laugh a lot! Turtle Dance Music believes that your kids are capable of doing extraordinary things.  ​We Help Kids Come Out Of Their Shells!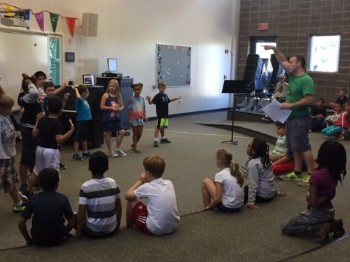 "Songs That Count" (PK-K)
​Do you like to count? Do you like to read books? Do you like to make hip-hop beats? Songs That Count! engages Pre-K and Kindergarten students with a fun, 45-minute program that immerses them in exciting hands-on music, movement and counting activities. The performers connect with students and help them learn with exciting books and visuals about counting and addition. By the end of each class, the students create an original song, from any genre of music they want, about their favorite things they counted that day and get a chance to try out all the awesome instruments used by the Turtle Dance Musicians!
"Science: The Musical!" (Grades 3-5)​
Science: The Musical! engages students in science topics such as revolution and rotation; the phases of the moon; the water cycle; ecosystems/food webs and other science-related topics by integrating music and education. The Turtle Dance Musicians engage students, whether they love performing or are scared to get on stage, in timed challenges, games and activities that will help create original songs and comedy scenes based on the topics. At the end of the class the students perform for one another and retain the information they learned through reflection. We also record the songs and scenes for study-help later! Turtle Dance Music's objective is not only to reinforce the topics taught in science classrooms but also to create a fun learning environment where every student feels safe and excited to participate.
The Sun, The Earth, The Moon: Revolution and Rotation (Grade 5)
An in-class theater and music workshop that explores the different physical characteristics of the sun, the earth, and the moon. Students will participate in rap battles, improv comedy, timed-theater challenges and original songwriting. This is a great introduction to this unit for 5th graders. The teaching artist will lead students in a movement activity that will help students identify the different phases of the moon. Then students will create original comedic scenes and sketches about the different characteristics of the sun, the earth and the moon. Finally, the workshop will culminate with an original rap battle and dance-off where students will create lyrics about the differences between revolution and rotation.
Why Ecosystems Rock (Grades 3-5)
Why Ecosystems Rock! is an exciting program meant to foster exploration, understanding and appreciation of ecosystems. Students will explore the question, "How do scientists, politicians, farmers, teachers, filmmakers, musicians, inventors and doctors communicate important ideas about ecosystems that currently threaten the survival of living organisms?" We will discuss important topics including biodiversity loss, climate change, deforestation, population increases, food production and waste, agriculture, water usage, biofuels and greenhouse gas emissions. This program will engage students who are visual, aural, and/or kinesthetic learners through fun and novel music and improvised theater collaborations. Students will work in groups to create original scenes and songs about relevant information related to their chosen topic. Students will present their scenes and songs at the end of class to an audience of their peers. They will reflect on what ideas they took away from other group's presentations.
Wally Water and the Water Cycle (Grades PK-5)
"Wally Water + The Water Cycle" teaches kids about the water cycle and how matter changes. Wally is a happy water molecule in the ocean who is unwittingly guided by the sun on an extraordinary journey through the water cycle. Students watch Wally's story through our teaching artists who jump back and forth among the roles of storyteller, character, and musician while explaining scientific concepts through song, text and demonstrations that the audience can participate in. While grand in scope, "Wally" uses minimal design like beautiful projections and music to convey setting and mood so it can be adapted to many different educational spaces.
1 Performance: 150 students per performance: $570
2 Performances: 150 students per performance:  $785
2 Workshops: 50 students per workshop: $570
4 Workshops: 50 students per workshop: $785