Vintage Soul Productions
*PROGRAMS AVAILABLE IN DIGITAL FORMAT*
---
---
Programs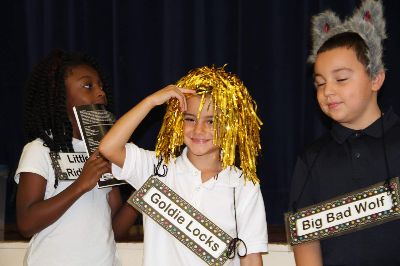 Vintage Playshops
For elementary (grades 3 and up) and middle school age groups. Minimum of 15 students.
2 hour workshop includes: Intro to theater, casting, group reading, post discussion.Students learn and "play" with interactive playbooks published by Vintage Soul Productions. Students use props and some costumes to bring reading to life in the classroom! (Provided by Vintage Soul Productions).
'All Grown Up,' is a fast-paced, fun and short play about the young know-it-all, Miss Cindy, who takes us on a journey her through her trials and tribulations of growing up too slow and suddenly becoming an adult too fast. Cindy always knows better and thinks other children are "too babyish." She cannot wait to finally become a real grown up. One day, while sneaking to use her dad's new time bending, magic SUPER X400 COMET PHONE, Cindy discovers that she can finally speed up time and try her luck as a grown up! In the play, we see Cindy become a teacher, an astronaut, a dancer, a lawyer, and a chef all while getting into all sorts of trouble with aliens, unruly children and flaming frying pans! Will Cindy learn that being an adult can be hard and being a kid has its own benefits?
'Funanya's Flowers' is a story about a young girl who has a special role in her magical village in the sky and it teaches about the power of forgiveness. Though, Funanya, is feisty and stubborn she has a special touch…she can make flowers grow overnight! This play tells the story of how Funanya got angry with her friend, Ekundayo, for being clumsy while dancing with her and her sisters and how her grudge stopped the rain from pouring on the village. We learn about how forgiving and forgetting can play a major part in the flow of energy in one's own community.
'Night at the Davis Library,' is a witty and comedic one act play suitable for a large elementary through high school aged cast. It tells the story of the mischievous, Janet, who gets locked in the library after school and finds herself in the Village of Books! We follow Janet and a dizzying mixture of our favorite fairy tale characters as they try to make sense of some odd (and naughty) things that have been happening lately. Will the Big Bad Wolf, Goldie Locks and Robin Hood get away with their crimes? Can Judge Aladdin figure out what to do? What will happen to Janet since she knows too much? What power is there in having read ALL the stories? Let us find out as we follow Alice and the Gingerbread Man down the rabbit hole! Some of your favorite childhood characters play a role in this playbook! Peter Pan, Pinocchio, Big Bad Wolf, Robin Hood, Goldie Locks, Superman, Sleeping Beauty, Little Red Riding Hood, King Midas, Aladdin, Cat in the Hat, Cinderella, Gingerbread Man & More!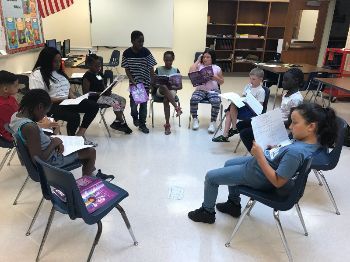 In 'Lazy Lester Leon,' Lester learns the values of hard work as he travels through a journey of musical history. In a dreamlike state, he encounters notable figures such as Diana Ross, Mozart, and Louis Armstrong who show him how staying focused and not giving into peer pressure will benefit his life. Some fun famous characters Included in this play: Amadeus Mozart Queen Marie Antoinette Michael Jackson & The Jackson 5 Diana Ross & The Supremes The Temptations Josephine Baker Billie Holiday Ella Fitzgerald & More!
Each class will be provided with materials including the play prior to the workshops. Students should read the play with their teacher prior to the workshops. Each playshop includes a discussion about theatre structure-playwright, director, actors, producer and audience. Students will discuss character traits and how they can express those traits and technical stage direction, parentheses and dashes in the script. Students will quickly volunteer for parts-every student will take a role.  Students will read the play as a staged reading.
After performing the play students will take part in a discussion about plays, reading and performing
2 Workshops (2 artists): $750
4 Workshops (4 artists): $1000
---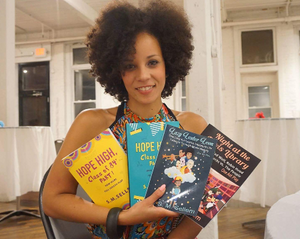 Sharece Sellem is a professional performing artist, Playwright and Mentor with over 10 years of experience writing, directing choreographing and teaching. As a passionate artist, purposeful engagement informs her philosophy in guiding community development and education through the creative and performing arts.  Inspired artistic expression and movement are utilized as a means of empowering young people, while building new pathways for opportunity and growth.