You're Invited to Meet the New Executive Director!
---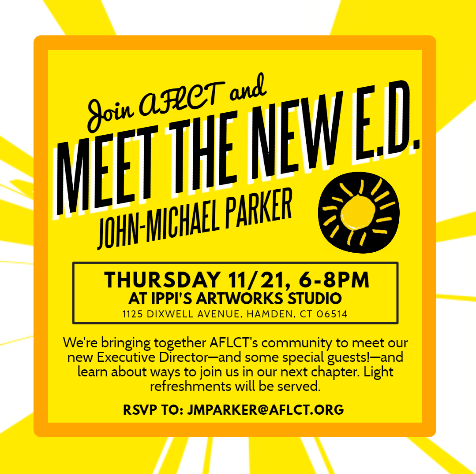 YOU'RE INVITED!
Thursday, November 21st, 6-8 PM
IPPI Art Works Studio 
1125 Dixwell Ave, Hamden, CT
RSVP To John-Michael Parker
We're bringing together AFLCT's community to meet our new Executive Director—and some special guests!—and learn about ways to join us in our next chapter. Light refreshments will be served.
ArtWorks Studio is located in the same Plaza, and is behind Price Chopper. There is ample parking.
---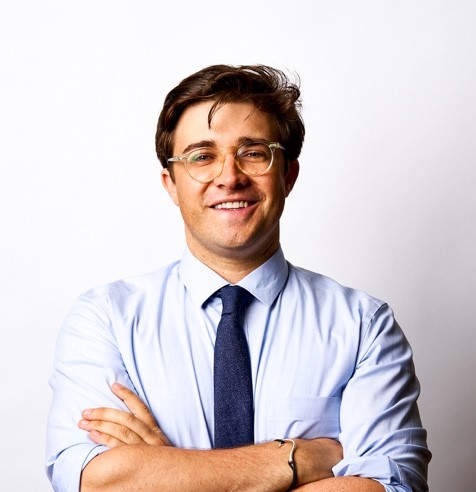 After a nation-wide search, Arts for Learning Connecticut (AFLCT) named John-Michael Parker of Madison, Connecticut to lead the organization as Executive Director. Retired Executive Director, Eileen Carpinella, served in the position for over 23 years. The AFLCT Board of Directors named John-Michael from more than a dozen candidates, due to his outstanding non-profit leadership, communication and fundraising skills; as well as his experience as a professional artist.
     John-Michael Parker grew up in Madison where he attended Daniel Hand High School. Graduating in 2010 from Yale University, he joined a team of classmates to form The Future Project, an education non-profit startup located in New York City, with the mission of bringing social and emotional learning opportunities to high school students.  As a "Dream Director," John-Michael worked with faculty and community members to foster student potential. He later became Vice President of Development for The Future Project greatly increasing the organization's annual fundraising goals. The Future Project grew to serve more than 25,000 high school students across the country.
  John-Michael returned to Madison in 2018 and put his considerable management and grassroots marketing skills into running a campaign to become  State Representative, 101st District, Madison.  Unusual for a novice politician, Mr. Parker only lost the race by 18 votes. He currently serves on the Board of the Madison Youth and Family Services and The Women and Family Life Center.
     Also a talented musician and songwriter, John-Michael performed and toured as a front man with the indie band, Great Caesar, including at TEDxHollywood. Recently, he served as music director of the musical Newsies for Daniel Hand High School.                      
     In 2019 Arts for Learning Connecticut celebrated 40 years as the largest arts in education organization to annually serve more than 260,000 children and families in the State. At the recent spring gala, Honorary Chair, Lt Governor Susan Bysiewicz praised AFLCT's considerable accomplishments. Representing AFLCT, John-Michael Parker will serve on the Governor's Subcommittee, Education and STEAM, Council on Women and Girls.
     Founded at the University of Bridgeport in 1979, AFLCT has grown from 10 musicians performing at nearby schools to a roster of more than 100 performing and teaching artists at schools, libraries and community centers around Connecticut.
    As the new Executive Director, John-Michael hopes to broaden the organization's financial resources, nurture the outstanding roster of artists and staff; and work with Connecticut leaders to further grow the non-profit. "I am thrilled to be joining Arts for Learning Connecticut and eager to work with the staff, artists, partners and supporters of the organization to ensure that residents across the State have access to the extraordinary benefits of creativity and arts-based learning."
Contact: John-Michael Parker, jmparker@aflct.org, 203-230-8101