Red Sneaker Productions
*PROGRAMS AVAILABLE IN DIGITAL FORMAT FOR LOWER FEE*
David Zucker Presents Red Sneaker Productions! For 40 years, they've produce quality educational theatre for young audiences across the United States. 
---
Programs
Poetry In Motion (Grades K-8)
Poetry in Motion is an exhilarating tour de force for actor/mime Anthony Cascio, that combines acting, mime, humor, audience participation and an old steamer trunk brimming with props, costumes, masks, and puppets; bringing the best children's poetry vividly to life. Anthony recreates the ne tradition of spoken verse with the poems of such authors as A.A. Milne, Lewis Carroll, Langston Hughes, James Whitcomb Riley, and many more. 
Length: 45 minutes
Single Performance: $685
Back to Back Performances: $905
Triple Performances: $1,420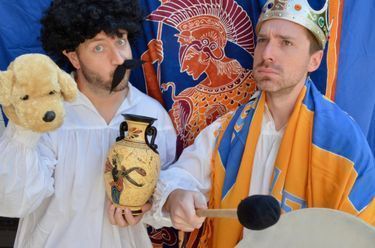 MythMasters (K-8)
MythMasters sweeps the dust off the myths of ancient Greece and brings the power, majesty, and magic of Mount Olympus to life! Through a skillful blend of mime, comedy, drama, puppetry, masks, music and lots of participation, the gods and goddesses, heroes and villains, monsters and maidens of Greek mythology walk the earth once again! This performance supplements units on Greek mythology and explores the stories of Phaeton and Helios, Orpheus and Eurydice and Echo and Narcissus. Many schools have made a performance of MythMasters part of the curriculum for grades 4,5,6,& 7 
Created by David Zucker and Richard McElvain.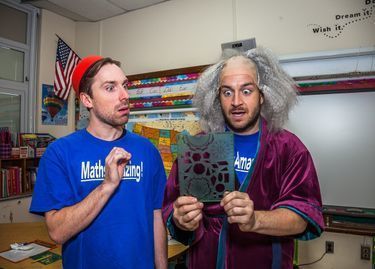 Mathsamazing (K-8)
The show is aimed at students from grades 4 - 8. The objective of the program is less to teach concepts than to inspire kids to be excited about Math. It is estimated by some that as many as 5 out of 4 students are intimidated by Math...I mean 4 out of 5. What David and Richard do is to present Math, not as an obstacle but as a doorway through which students can find a world of Math that is fun, astonishing and inspirational. 
*Flexible pricing, especially for Virtual Programming.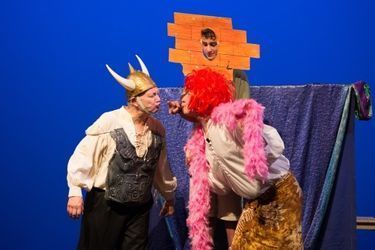 The Shakespeare Guyz (K-8)
Anthony and Ben bring the Bard to life with humor, wit, experience, talking skulls, football penalty flags to signify famous lines, Shakespearean Insults, and their own unique ability to connect with kids honed over a combined 60 years experience performing in schools. This is Shakespeare with fast-paced scenes, educational connections and lots of audience participation. Three audience volunteers get to have their debut as Shakespearean actors and the entire audience is the crowd of Roman citizens for Marc Antony's famous "Friends, Romans, Countrymen" speech. 
Artist Bio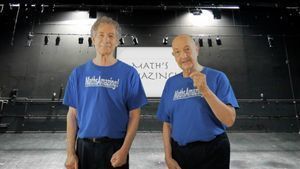 David Zucker and Richard McElvain, professional members of Actors Equity and the Screen Actors Guild, are the creative geniuses behind Red Sneaker Productions. Our award winning educational school programs include MythMasters, Poetry in Motion, the Shakespeare Guyz, MathsAmazing and Odyssey of the Mime. They have performed to hundreds of thousands of children all across the USA. Anthony Cascio and Ben Thompson, the current performers for AFLCT, are NYC-based stage and lm actors. They have also been performing in schools for over 10 years.