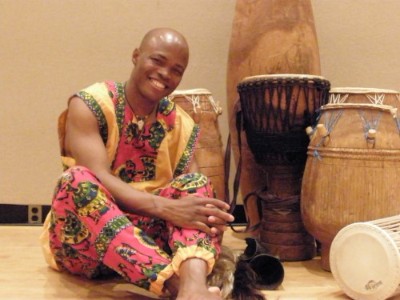 Soro Bindi-Available September 1, 2018-March 1, 2019 and June 2019 ONLY!!
Soro-Bindi is an exciting, interactive performance that incorporates traditional Ghanaian dances, songs, stories and explanations of Ghanaian culture. Iddi Saaka  leads the children through various dances such as the Kpanlogo dance and the Bawa harvest dance. Between dances, the students learn about Ghana through multiple stories. Students are invited to play traditional Ghanaian instruments and join together at the end for the big circle dance.
About the Artist
Iddi Saaka is from the Gonja ethnic group of northern Ghana. He has been dancing extensively since childhood. After graduating with distinction from the dance department of the School of Performing Arts, University of Ghana, Saaka moved to LA to pursue a degree in Choreography. In 2004 his children's book "Soro Bindi – The Drumming Mouse" was published in Israel by Hakibutz Hameuhad Publications, and has received wide distribution. His CD, "Gonja Dreams", a CD of original music that combines African and Western musical styles, was produced in 2003 in collaboration with Roy Levi and Dan Boneh.
"Iddi Saaka was ABSOLUTELY wonderful for our needs! What a fabulous dancer, storyteller and drummer! Our kids LOVED him! It was such a wonderful way to launch our study of Africa!" -- Nancy W. Goss Region 5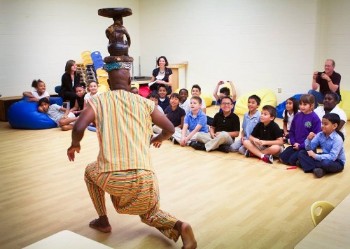 Soro-Bindi  (Grades K-8)
Soro-Bindi is an exciting, interactive performance that incorporates traditional Ghanaian dances, songs, stories and explanations of Ghanaian culture. Iddi Saaka leads the children through various dances such as the Kpanlogo dance and the Bawa harvest dance. Between dances, the students learn about Ghana through multiple stories. Students are invited to play traditional Ghanaian instruments and join together at the end for the big circle dance. The performance can be adapted for specific age groups. Soro-Bindi teaches students about Africa in general and Ghana in particular. The performance encourages students to respect and appreciate different cultures through an exploration of Ghana and its art forms.Length: 45 Minutes
Single Performance: $855
Performance Plus workshop: $1,070 (25 student limit)
Back to back performances: $1,070
Two Workshops: $430
Four Workshops: $640