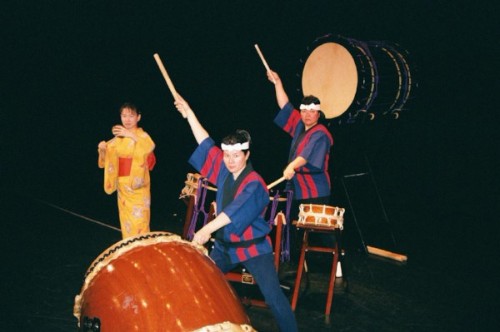 Taikoza
Taikoza brings music and dance inspired by traditional festivals throughout Japan. This program includes exquisite and colorful dances in full costume, the enchanting sounds of bamboo flutes, the koto and the thunderous sounds of the large, barrel-like taiko drums. Taikoza brings fun audience participation and the powerful, yet graceful synthesis of sound and motion to audiences all over the world.
About the Artist
Taikoza is a New York-based Japanese Taiko drum and dance ensemble that uses the deep and powerful rhythms of the Taiko drums, stringed instruments, metal percussion and bamboo flutes to create electrifying energy and a highly visual musical art form. Drawing from Japan's rich tradition of music and performance, Taikoza has created an original and high-energy sound that transcends national boundaries. Taikoza has thrilled audiences all over the world with its highly educational and artistic programs.
What the schools are saying: 
Alison Cochrane, Vice President of Salem School PTO writes: "Our third grade studies Japan and its culture so the tie-in with our curriculum provided our students with an opportunity to hear and see some of the traditions about which they had only read. The performers held the audiences attention with the sounds of the drums, but when they invited students to join them, it became a truly personal event, which they will not forget. Thanks to Arts for Learning Connecticut for providing these opportunities."