Tanglewood Marionettes
*PROGRAMS AVAILABLE IN DIGITAL FORMAT*
---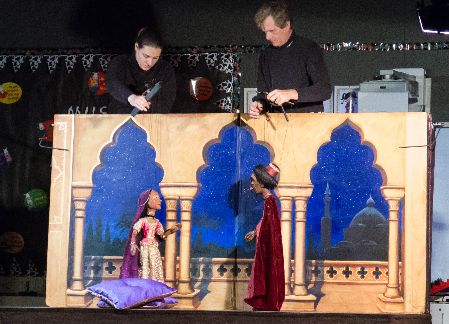 Tanglewood Marionettes is a nationally known touring marionette theater based in New England. Large, beautifully hand-crafted marionettes, colorful sets, and integrated lighting and sound create a fully immersive theatrical experience. Their highly skilled puppeteers have spent many years perfecting their art, delighting audiences of all ages as they bring their repertoire of classic tales to life.
---
Programs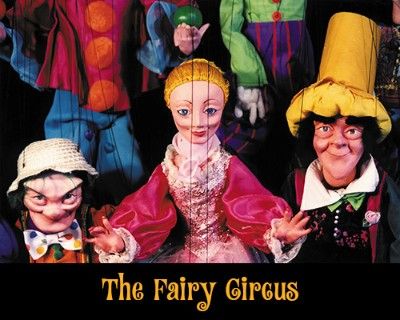 The Fairy Circus   (Grades PK – 6; best for PK – 2)
Featuring over twenty beautifully hand-crafted marionettes, The Fairy Circus is a showcase for turn-of-the-century-style trick puppetry. The puppets will dance, play instruments, juggle, contort, transform, and fly through the air with the greatest of ease, all to the best-loved music of favorite composers. This title is perfect for younger children and family audiences.
The Fairy Circus is performed by a solo puppeteer. The presentation includes a lively puppetry demonstration prior to the show, and a Question and Answer session following the performance.
Length: 40 Minutes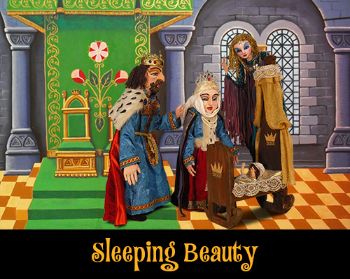 Sleeping Beauty (Grades PK – 4)
A charming tale which appeals especially to younger children, Sleeping Beauty begins in King Felix's great hall where guests from across the land have gathered to celebrate the birth of Princess Aurora. The party goes awry when the wicked witch arrives and curses the baby princess. Will the curse come true? Will someone with a "true heart" appear? You will know when you see Tanglewood Marionettes' presentation of this beloved classic.
In this retelling, a painted story book opens to reveal each scene. Beautifully hand-crafted marionettes are brought to life by a master puppeteer as the dramatic events unfold.
Length: 40 Minutes
Solo Puppeteer-Sleeping Beauty and Fairy Circus
Single Performance: $715
Double Performance: $1,215
Triple Performance: $1,715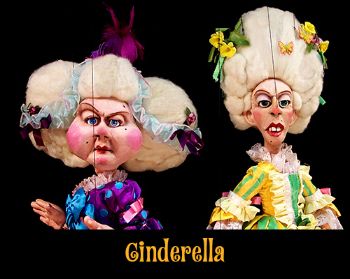 Cinderella
Set in the eighteenth century and featuring a dozen lavishly costumed 30" marionettes, this production of Cinderella is a Tanglewood Marionettes showpiece. The story unfolds as the pages of a giant book open to reveal each beautifully painted setting – the village square, the rustic kitchen, the magnificent ballroom, plus many more. All your favorite characters are here, from gentle Cinderella to the bumptious stepsisters and the charming Prince, and each marionette is manipulated with precision and grace by our talented puppeteers.
Our telling is based on the original beloved tale, but we do offer a few new surprises: Cinderella's method of conveyance to the ball is NOT the traditional horse-drawn coach, and, when all hope seems lost, a clever little bluebird saves the day for Cinderella. A classic fairy tale told with wit and style, Tanglewood Marionettes' production of Cinderella is sure to please audiences of all ages.
"Our students enjoyed a funny and creative program with realistic puppets that looked and acted like people in amazing costumes. They love watching the puppeteers as they demonstrated how the puppets work during the performance. They liked that the story flipped setting like a book – Creative (detailed and realistic settings). They were enchanted when Cinderella in a hot air pumpkin balloon and the puppeteer came off stage into the audience. When the puppeteers gave the opportunity for questions and answers at the end of the performance with demonstrations, they had everyone's attention.
We had class conversations and student written responses to:
What is the theme of Cinderella? Explain with evidence from the performance. 
Compare and Contrast the puppet Cinderella performance with the original Cinderella.
How can you compare Cinderella to a book, movie, or events, culture/s in the world?
"Students and adults thoroughly enjoyed the performance. The cafetorium was energized and "electric" with excitement, engagement, giggles, laughter, awe and wonder, and full of smiling faces! Loved, loved, loved this performance! Phenomenal A HUGE HIT!! What a delightful treat and rich cultural experience!" -- Linda, Brookfield Schools
Running time: 45 minutes
Recommended grade levels: Appropriate for K – 6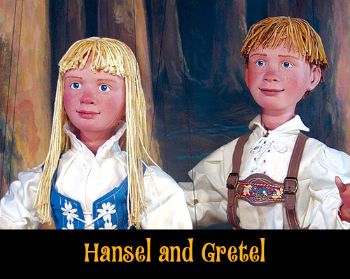 Hansel and Gretel (Grades K-6)
Hansel and Gretel is based on the classic fairy tale by the Brothers Grimm, and features melodies from the Humperdinck opera. The colorful set is in the shape of a giant story book; as the pages turn, each new and exciting scene is revealed. All the staging, scenery, and marionettes are handcrafted by Tanglewood Marionettes and together represent over a year of construction time.
The story itself is set in the mid-nineteenth century. As the tale unfolds, Hansel and Gretel must call upon their inner reserves and learn new methods to overcome the challenges they encounter while lost in the wood.
Length: 45 minutes.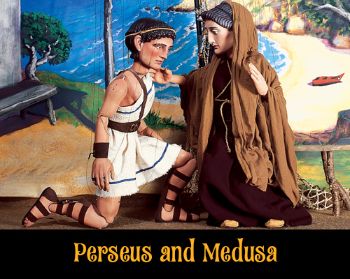 Perseus (Grades 1-8)
Take a trip back in time to the dawn of civilization, to an ancient world of gods, goddesses, prophecies and heroes. In this masterful production, you will accompany Perseus through personal trials and glorious quests. A lavish show featuring beautiful, hand-crafted marionettes, scrolling sets, exotic music and much, much more. The ancient world has never been so accessible!
Length: 50 Minutes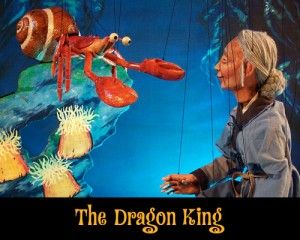 Dragon King (Grades K-6)
A terrible drought has overtaken the land, and all the world has turned brown and lifeless. The Dragon King is ruler over all things water, and the people are beginning to wonder why he has not brought the life-giving rains in such a very long time.
An underwater fantasy based on Chinese folklore, The Dragon King tells the tale of an intrepid Grandmother who journeys to the bottom of the sea in search of the elusive Dragon King, and the answers to why he has forsaken the land above.
Colorful sea creatures, an exciting adventure, and a Dragon King that will knock your socks off! All this and more can be found in this award-winning production.
Length: 50 Minutes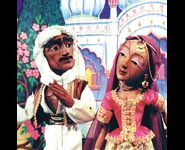 An Arabian Adventure (Grades 1-6)
A swashbuckling tale set in exotic lands and featuring our signature story book backdrop, An Arabian Adventure tells the tale of a Persian prince who is thrown into a dungeon because of his love for a beautiful princess. Facing danger at every turn, the courageous prince must use his wits to escape his prison, defeat the diabolical Vizier, and save the princess from a tragic fate.
Replete with clever stage illusions and lighting effects, An Arabian Adventure is a fast-paced, action-packed drama that is especially good for older children.
Length: 40 Minutes
Two Puppeteers-Cinderella, Hansel & Gretel, Perseus, Dragon King and Arabian Adventure
Single Performance: $925
Back to Back Performances: $1,530
Triple Performance: $2,085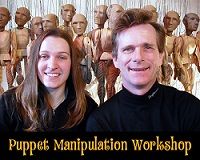 Puppet Manipulation Workshop (Ages 8 and Up)
Master puppeteers will discuss some of the construction and stringing techniques used when building marionettes, and then demonstrate the basics of marionette manipulation. Participants will be provided with marionettes for the duration of the workshop. Participants will experience firsthand what it is like to work a professional-quality marionette that has been balanced and tuned like a fine instrument. The marionettes will be short-strung to allow the participants to work them at floor-level.
The Puppet Manipulation Workshop will only be offered in conjunction with a performance, on the same day and at the same location. If a sponsor wishes to offer the workshop without the performance, a minimum of three workshops must be scheduled for the same day, and at the same (or nearby) location. Workshop length: 60 minutes Maximum. Number of participants per workshop: 26.
About the Artists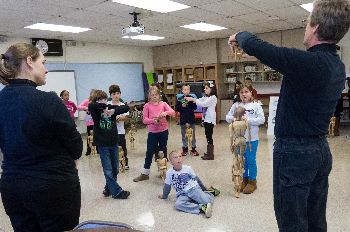 Tanglewood Marionettes is a nationally known touring theater based in New England. Large, beautifully hand-crafted marionettes, colorful sets, and integrated lighting and sound create a fully immersive theatrical experience. Their highly skilled puppeteers have spent many years perfecting their art, delighting audiences of all ages as they bring their repertoire of classic tales to life. They are the recipients of two UNIMA awards, puppetry's highest honor, for their productions An Arabian Adventure and The Dragon King. Presentations average about 45 minutes in length, and may include a lively puppetry demonstration prior to the performance, and a Question and Answer Session following the show.