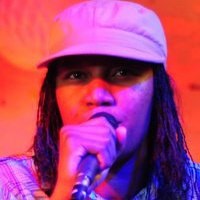 Versatile Poetiq
About the Artist
Versatile Poetiq (aka Brittana Tatum) is a spoken word artist and rap poet with a mission to enhance student's abilities to understand and conceptualize poetry and spoken word. She uses an inclusive style of teaching that values success over a system and people over a plan. This enables her to connect with each student in deep, meaningful ways. A regular performer in the Hartford area hip-hop scene, Versatile graduated from the University of Hartford and teaches spoken word at Hartford Academy for the Arts.
Workshop (Grades K-12)
Students learn the core elements of Spoken Word, Poetry, and Hip Hop through various activities and exercises. They can watch an artist perform on YouTube or VersatilePoetiq can perform for them and they analyze and give feedback. (All Ages)
Performance (Grades K-12)
VersatilePoetiq performs Spoken Word and uses call & response with the audience, letting students perform if they choose to as well!
Residency (Grades 3-12)
Students learn the core elements of Spoken Word, Poetry, and Hip Hop through various icebreakers, activities, and exercises. They will create their own poems for performance, as individuals or as a class. More in depth look inside Spoken Word, Poetry, and Hip Hop through class discussions. Students will watch videos of various artists and analyze and respond to them. Students will use critical thinking, problem-solving, and analytical skills to understand the material.   A seven week (1 ½ hour per week) residency will increase student's awareness of how rhythm (the use of repetition, tempo, and order) is used to enhance poetry, music, and communication between students and teachers. They will learn the core elements of Hip Hop and Poetry and will be able to express and perform weekly. Students will practice various Poetry and Hip Hop techniques that will improve their figurative and literary skills.
Fees:
2 workshops: $500
4 workshops: $670
5 day residency: $2,065
Single performance: $665
2 performances: $855
Call for special after school or before school residency prices.